Quick Dish Quarantine: 'OHAYO! from Inside A Monster' Episodic Livestream 10.25 Online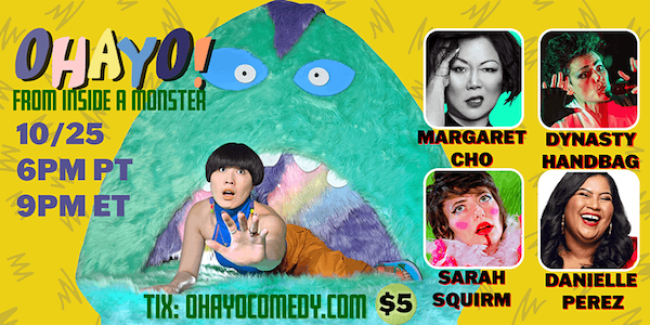 Can you believe it's been almost eight months since we all masked up/ holed ourselves up in our abodes to escape THAT microscopic, derisive germ floating about? All the way back in March, comic Atsuko Okatsuka was swallowed up by THAT monster with only a computer to communicate with the outside world. To counter the loneliness, she started a Morning show to establish a connection with other humans. This month (Sunday October 25th) she continues her online variety/comedy adventure called OHAYO! from Inside A Monster. The episodic livestream mystery show will continue where the last one left off.
Previously on OHAYO!, Atsuko woke up with her BANGS missing. She confronted Randy Feltface, who during quarantine, had grown out bangs just like hers. Spoiler! Atsuko realized she'd cut off her own bangs after some drunken fun. Oopsie! The audience was also treated to the totally viral William Hung assuring Atsuko that there's MORE TO HER THAN HER BANGS. THIS month, from the belly of the beast, Atsuko will welcome guests:
Sarah Squirm (Helltrap Nightmare, Adult Swim)
Margaret Cho (Fresh Off The Bloat, The Margaret Cho)
Dynasty Handbag (Weirdo Night)
Danielle Perez (Thigh Gap Comedy, Gentrification)
Won't you join Atsuko as she works up the courage to face an unexpected BULLY with the help of her comedian friends while saying "Good Morning" to the world?!
Mentions: Show 6pm.  $5 General Admission / $10 Generous Admission/ Free for the Financially Distressed.