Quick Dish Quarantine: Starting 11.22 'GUY CHOICEMAN DECIDES To SAVE AMERICA! The Chooseical: Where You Do The Chooses'
From the team that brought you the wizard comedy PUFFS at The Peoples Improv Theater comes a unique comedy/gaming show for ALL. Before the world went all topsy-turvy, I'm sure you remember Black Mirror bringing you Bandersnatch, an interactive choose-your-own-adventure video program. If you take away the scary bits of that, add it to a streaming platform, and infuse some genuine comedy action, you have GUY CHOICEMAN DECIDES To SAVE AMERICA! The Chooseical: Where You Do The Chooses. Beginning November 22nd through January 2nd, 2021, Playwright Matt Cox (Puffs, Or: Seven Increasingly Eventful Years at a Certain School of Magic and Magic; Kapow-i GoGo), The Ultra Corporation, and the advanced artificial intelligence ChooseBot98, will take you on this all-new streaming comedy slash gaming ride. The audience will fill the role of Guy Choiceman, "hero, man-of-action, and …business supply store employee?" That decision is up to you. As a hive mind, the audience will collectively make Guy's decisions using the power of C.H.O.O.S.E.S. Choices include making decisions like "Will Guy stop the villainous machinations of the nefarious Colonel Control?," or "Will Guy let his phone go to voicemail?" 25+ unique endings (and secret side quests) await YOU, peeps! Life is stressful enough, so why not yourself in the position where your decisions have ZERO consequences for lil' ole YOU! Check out all the dates below:
Performances are Sun 11/22, Mon 11/23, Fri 11/27, Sat 11/28, Sun 11/29, Fri 12/4, Sat 12/5, Sun 12/6, Fri 12/11, Sat 12/12, Sun 12/13, Mon 12/21, Tues 12/22, Weds 12/23, Thurs 12/24, Fri 1/1/21, and Sat 1/2/21 at 7pm; Sun 11/29 and Sun 12/13 at 2pm.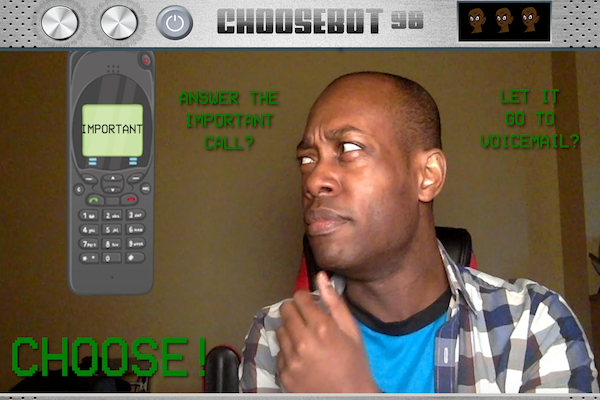 Mentions: Tickets $5 available at mattcoxland.com. Patrons receive an exclusive link upon purchase. Guy Choiceman is written and directed by Matt Cox, and features the original Off-Broadway cast of Puffs: Langston Belton, Madeleine Bundy, Jessie Cannizzaro, Nick Carrillo, Matt Cox, AJ Ditty, Julie Ann Earls, James Fouhey, Andy Miller, Zac Moon, Ellie Philips, and Stephen Stout with original music by Brian Metolius.