Quick Dish Quarantine: 12.15 Online 'Santa Claus vs. The Devil' Live Riffing with MST3K's THE MADS!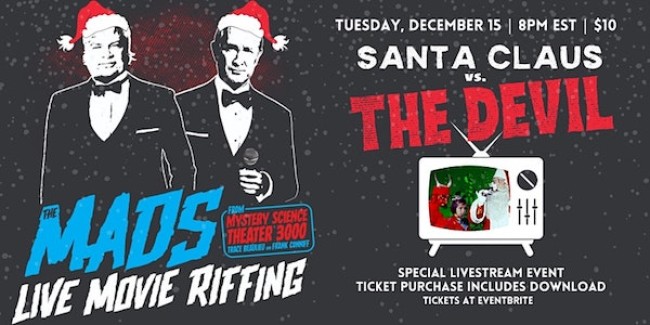 Nothing like "some good old-fashioned nightmare fuel" to usher in the holiday season! Long live Crow T. Robot (for no particular reason)! Tuesday, December 15th on the Interwebs, The MST3K Mads, Trace Beaulieu and Frank Conniff ("Dr. Clayton Forrester" and "TV's Frank"), bring you another live-riff show featuring the 1959 Mexican fantasy film "Santa Claus vs. The Devil," directed by Rene Cardona and co-written with Adolfo Torres Portillo. The film tells a most disturbing tale in which Santa (who works in outer space) must do battle with a demon named Pitch, sent to Earth by ole Lucifer to ruin Christmas by doing away with Old St. Nick to make "all the children of the Earth do evil." Yikes! Broadcast of the film became a holiday tradition on several US. stations, after the flick found financial success over several holiday season theatrical releases in the 1960s and 1970s. Trace and Frank will continue in the tradition for their special holiday livestream. The riff-fest will include a Q&A with the duo, plus very special guests to be announced. The show will be broadcast live via private link sent out to ticket holders an hour prior to showtime. Tune in from all over the world this December. You won't be disappointed (since the rest of 2020 has taken care of that). Enjoy!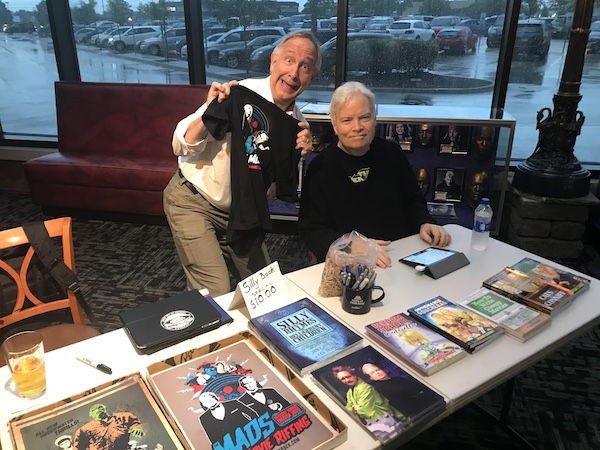 Mentions: Show 5pm PST. Click HERE for tickets. A portion of the proceeds from this event will benefit Friends In Need Food Shelf in Minneapolis. Ticket purchasers will gain access to re-watch the livestream and download it for personal viewing. Visit 'The Mads' THERE.