Quick Dish Quarantine: West Side Comedy Club & F Comedy Club Present A "Reckless" BROADISH Talk Show Comedy Showcase 12.19 on Zoom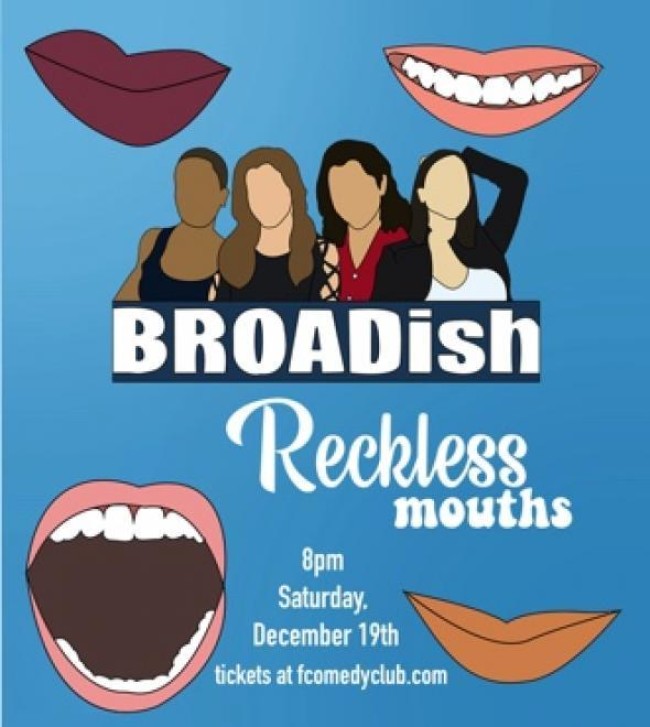 It's been close to a year of comedians performing "stand up" virtually from many a lonely laptop. In keeping with that mandatory trend, a group of opinionated women stand-up comedians (a lawyer, two moms, a nerd, and, more importantly, an eclectic group of women) brought their own funny and direct flavor of comedy to the internet with the Broadish YouTube show. On December 19th West Side Comedy Club and FComedy will present "Reckless Mouths" opinionated Zoom (Stand Up) Comedy featuring Broadish's talented troop of Felicia Madison, Hollie Harper, Jocelyn Chia, Dhaya Lakshminarayanan PLUS host James Mattern.  The show will feature the comedians getting into the lows and even lower points of this life changing year. The "girl gang plus one guy" will also have a meet and greet after the show to get to know the co-hosts and plans for the Broadish Show in 2021. Zoom it up for the holidays because that's all we really have left, isn't it? Cheers!
Mentions: Show 12.19 at 8pm EST. Tickets HERE. Zoom link available upon purchase of ticket. Watch episodes of "Broadish" HERE.