Quick Dish Quarantine: NICKY PARIS Headlines LA VICE at The Miami Improv Comedy Theatre 1.28 with Daniel Franzese
If the name NICKY PARIS (Wendy Williams, MTV, E!) sounds familiar to our Comedy Cake readers, you may recall we talked to the comic way back in 2018 when he was the Red Carpet Host of The 5th Annual Burbank Comedy Festival. A whole lot has happened since then, but the new comedy landscape isn't stopping Paris from shining like a blazing star. Thursday, January 28th, Paris will headline the social distanced, COVID-safe LA VICE comedy show at the Miami Improv with opening act Mean Girls actor Daniel Franzese. Once the pandemic hit the comedy world hard, Nick quickly pivoted and began performing at every unique setting he could, including pick-up trucks, rooftops, Zoom shows, and socially distanced indoor shows around the country. This show should be a breeze compared to that!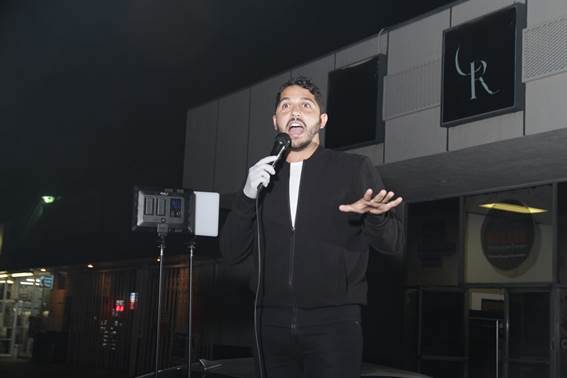 Nicky began his career in New York City at the age of 17 where he quickly became a fixture in the Big Apple's comedy circuit. He was first introduced to TV viewers on The Wendy Williams Show as on-air talent at 19. He delivered plenty of juicy gos on Wendy's "Street Talk" segments and soon became a regular on the hit talk show. Elite Daily tapped Paris to become one of their lead cast members for their hit web show GEN WHY, where he has represented millennials for over six seasons. He's done a bunch more TV work since then and carved out a space on the West Coast comedy scene after becoming a resident. You can catch Nicky as host on LATV's The Zoo, and on the Daddy Issues podcast with Dean McDermott and Adam Hunter. The high-spirited comic recently headlined the legendary Caroline's on Broadway as part of their "Breakout Artist Series," and was featured on Audible's 2020 Pride Special. Keep an eye on this rising star, kids!
Mentions: Show 8pm. More info HERE. All shows 21+. 2 drink min. Follow Nicky on Instagram.