Quick Dish NY: Go Back in Time 10.20 at Caveat with JONATHAN LOVES 2010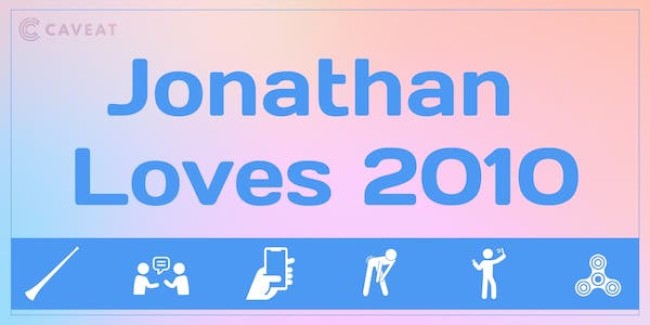 By now you've seen the De'Longhi Perfetto espresso machine where Brad Pitt uses gloves to pump gas into his motorcycle. Did anyone else laugh internally thinking, "Downton Abbey called, and it wants it's gloves back." OK, only me. If you'd like to laugh some more, PLUS do a little time travel, come on down to Caveat Wednesday, October 20th for JONATHAN LOVES 2010. Comedian and pop-culture expert Jonathan van Halem (Stephen Colbert Presents: Tooning Out The News, MSNBC) will take you on a year-by-year journey through the 2010s, focusing on the most influential movies/TV, defining cultural trends, and getting to the nitty gritty of those most memorable moments (you may be too young to remember). Questions that might be posed at such an event include:
Did Katy Perry deserve to get banned from Sesame Street?
Could Mark Wahlberg actually have stopped 9/11?
After JWoww has s*x with a guy, does she REALLY rip his head off?
Oh MY! AND the lineup helping everyone get through that year will include
Emily Wilson (Tuesdays at the Red Room)
Chris Murphy (Vanity Fair)
Dylan Adler (New York Comedy Festival)
Comedy/pop culture fiends unite!
Mentions: Doors 9:00 PM, show 9:30 PM ET. Tickets $15 in advance, $20 at the door. 21+ Location: Caveat, 21A Clinton St, New York, NY 10002. No outside food/drink. All attendees must present proof of full vaccination to enter.