Layers: What's Great about RISE UP Comedy? Um, EVERYTHING!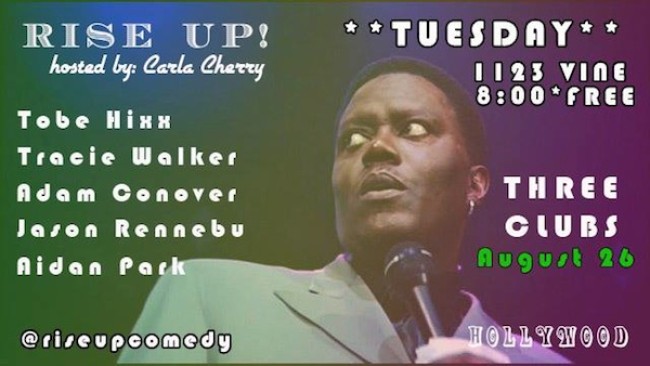 When most people think of comedy shows they imagine a stuffy club with holier than thou staff enforcing two drink minimums. Well, it's time to erase those notions. There's a new breed of comedy show in town and LA's nightlife is all the better for it. One newfangled, late night alternative comedy show that brings the best budding and veteran comics to it's audience, free of pesky cover charge and big on laughs, is RISE UP Comedy with Carla Cherry.
This comedy gem is hidden in one of Hollywood's classic drinking haunts, the Three Clubs Cocktail Bar. Recently I had the honor of attending the show in the flesh and was more than impressed. Get comfortabe and keep reading. After abandoning my vehicle in the adjoining mini-mall parking lot on a Tuesday evening, I followed a string of card suit symbols to the nondescript entrance. Surprise! A well dressed bartender greeted me inside the dark, sleek room reminiscent of a 40s gangster hangout. With a modest drink in hand I waited a short time before entering a larger room connected to the main bar. A cabaret-style theater unveiled itself to me which soon filled with audience members.
The lineup was composed of performers both familiar and foreign to me, which is always exciting. Brent Parris started things off engaging the audience with his southern charm and joking about LA traffic and coming out of the closet. Parris did an excellent job of warming up the crowd, as well as addressing the rather large party seated before him. We quickly learned the group was affiliated with comedian Tami Montgomery, which proves that bringing your personal fan club never hurts when you're newcomer. Montgomery followed Parris delivering a solid set with a twinge of darkness.
Host and show organizer, Carla Cherry interspersed some crowd work with stories about life as a single mom which paved the way for a string of comedy professionals. The lineup heated up with performances by Matt Braunger, Dan St. Germain, Debra DiGiovanni and Rick Shapiro. In light of what seemed to be a week of heavy news headlines, Matt Braunger gave us some light at the end of the tunnel with a tale about a buddy who steered a Navy vessel on acid. Insanity!
Dan St. Germain kept the laughter going testing out some new material and being as edgy as possible. The night went full-throttle with performances by comedy heavy hitters Debra DiGiovanni and Rick Shapiro.
I laughed so hard at DiGiovanni's self-deprecting set I was nearly out of breath by the end. The Canadian native was followed by the evening's closer Rick Shapiro. Stream of consciousness is what Shapiro is all about and he certainly delivered this night. The voice of GTA's Mason Waylon, Shapiro pushed the envelope with his often crass humor capturing everyone's attention and leaving no prisoners. Comedy doesn't get much grittier than this, folks. If you want to experience comedy in all its glory head to RISE UP! because you will NOT be disappointed. Did I mention the bathrooms are clean? Cheers!
Mentions: Attend RISE UP! TOMORROW, Aug 26, to see sets by Tobe Hixx, Tracie Walker, Adam Conover, Jason Rennebu, and Aidan Park. Show 8pm. FREE! Three Clubs is located at 1123 Vine, Hollywood. Images by Scott Sutton.