Quick Dish: Celebrate Your Hump Day with the LUSH HOUR at Melody Lounge 8/27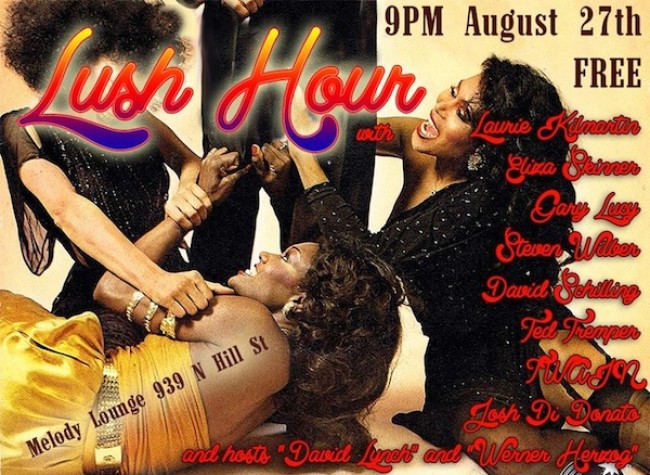 When most folks think of Chinatown they immediately conjure up images of dim sum and possibly private detective J.J. "Jack" Gittes. Well, the landscape has changed a bit. You can still get some delish dim sum but you can also find some choice comedy pickings. TOMORROW, August 27, join hosts Bizarro Werner Herzog and "David Lynch" at The Melody Lounge for the Lush Hour. You will be thoroughly entertained with stand-up and music by these fine performers:

Laurie Kilmartin (Conan O'Brian, Last Comic Standing)
Eliza Skinner (Totally Biased, Funny or Die, UCB)
Gary Lucy (Rock Solid)
TWAIN (Folk music duo with comedy legends Megan Koester & James Austin Johnson)
David Schilling (VICE)
Ted Tremper (Break Ups: The Series)
Steven Wilber ("Portland's New Funniest Person")
Josh Di Donato (He has a Hammock)
The hump will look a little less pronounced Wednesday night with a few drinks and some hard core laughs. Support live comedy!
Mentions: Show 9pm. Drink specials start @ 5pm. Cash Only Bar! FREE! The Melody Lounge is located at 939 N. Hill St., LA.