Quick Dish: See The MELINDA HILL Comedy Spesh 7.5 at The Lyric Hyperion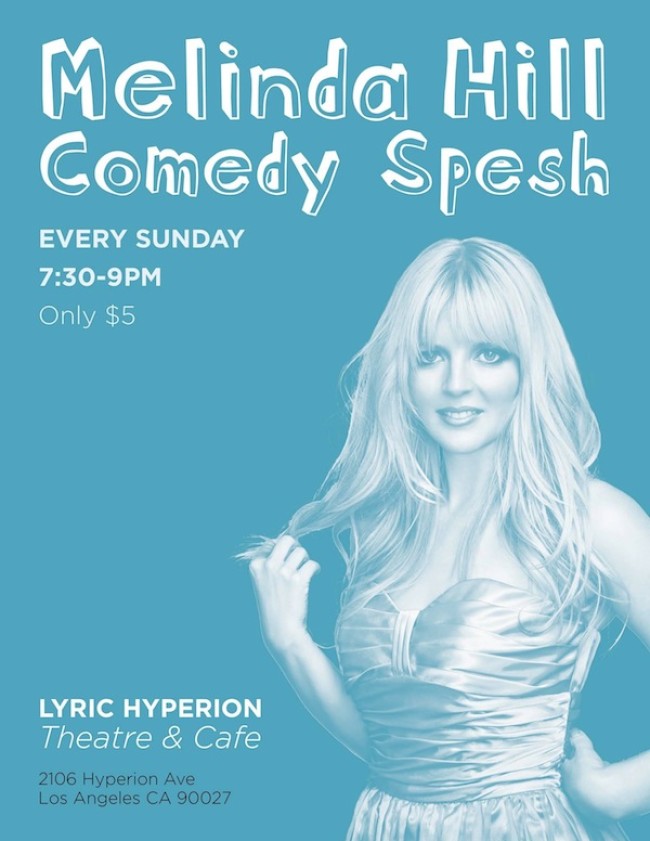 If you need a serious decompress once the 4th of July festivities are over, we've got just the "hair of the dog" comedy you require. From the producer of the one and only Tiger Lily show (currently at UCB) comes a new weekly comedy adventure that will sweep you off your feet. Jazz up your Sundays in Silver Lake with the Melinda Hill Comedy Spesh! You've heard her voice on Adventure Time (Doctor Princess, Frozen Yogurt Princess), she's the creator of the award-winning web series Romantic Encounters, AND you've seen her splashed across your screens numerous time. Well, now you get a WHOLE SHOW starring this funny lady of note dedicated to comedic experimentation involving jokes, stories, characters and yes, even dance numbers. Gasp!!! A different guest comedian or music act is featured weekly and this week veteran comedian Mary Lynn Rajskub (24's IT profressional, It's Always Sunny in Philadelphia, Mr. Show) holds that honorable spot. Chloe!!! OK, take it down a notch, super fan, and bottle that excitement for TOMORROW, July 5th, at the Lyric Hyperion.
Mentions: Show 7:30pm sharp. $5. The Lyric Hyperion is located at 2106 Hyperion, LA. Drinks and food available.