Icing: JESSE THORN Gives Us The Lowdown on The Upcoming 'Bullseye World Tour Of Several American Cities'
Host and producer of the podcast and radio show Bullseye, JESSE THORN, is embarking on a six-city live-show World Tour of Several American Cities this November. The tour kicks off here in Los Angeles November 13th at the historic Hollywood Forever Masonic Lodge and ends November 23rd in Washington, DC at NPR HQ. Each show will feature the best that popular culture has to offer. That includes in-depth interviews with influential and engaging people, original comedy, and live musical performances. Some of the guests one will be able to see on the tour include comedian Hari Kondabolu, composer/electronic musician Dan Deacon, comedian Aparna Nancherla, post-punk band Mission of Burma, actor William H. Macy, broadcast journalist Ray Suarez, writer/magazine editor Tavi Gevinson and more! Attendees of the show at New York's Greene Space November 20th will be treated to a Bullseye presents "Make Your Thing." Instead of the NPR broadcast format, Thorn will share an hour-long talk "Make Your Thing," where he discusses how he turned his college radio show into an independent media powerhouse, and how to merge your own artistic and nonprofit ideals with the commercial world in this crazy internet age. Did I mention Jesse's cohort John Hodgman will be at the event? Score! Read more about the tour and the Maximum Fun Jesse will be having.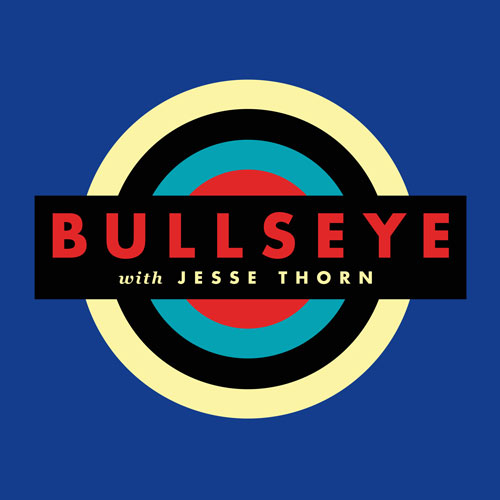 COMEDY CAKE: What are you looking forward to the most bringing Bullseye on the road this fall?
JESSE THORN: It's always a thrill to connect directly with the people who love the show. Doing Bullseye in a studio is such a sealed-off experience. We make it in pieces all by our lonesomes and send it off into the world… doing it on stage is like a dialogue with the people who care about the work we do. It's awesome.
CAKE: What was your criteria for selecting the cities on this tour?
JESSE: We're starting with a small tour – we've done live shows before but never toured. The Northeast Corridor is a nice, compact place to start. We can drive between shows, and we're on the radio in a lot of the cities we're visiting.
CAKE: Shall we be on pins and needles regarding the guests you'll choosing to interview this time? What is your research process?
JESSE: We're getting things booked up now… we make big lists of everyone in each city we want to hear from and just work our way through it. Especially with cities outside of New York and LA, we also open it up to our audience – I posted on Twitter and our Subreddit and got tons of great ideas. We've already booked a former Congressman, a brilliant TV journalist, and a fashion icon turned actress and magazine editor. Plus some great comics and bands.
CAKE: How much of the Bullseye listenership resides outside the U.S.?
JESSE: A lot of people listen on the radio, and that's only within the US, but there's a not insignificant part of the podcast audience abroad. Anywhere where people speak English – Canada and the UK and so forth, but also Scandinavia, Japan. All around the world.
CAKE: Ever consider taking the show on an actual world tour to places like Denmark, for example (where you just visited)?
JESSE: I'd love to – but we'd either need small venues or great promoters. I'd love to do the show in London or at Edinburgh. I think we could get the audience together there, but we'd certainly lose money on the trip.
CAKE: I always find that there's so much missed when a podcast is experienced audibly versus live and in your face. What are your thoughts on radio/web vs. live performance? Do you have a personal preference?
JESSE: Our live show is a real show. There's bands and comics and all these stage elements that just can't exist without real people actually there to watch. It's fun and funny and maybe not quite "in your face" but certainly it's a hotter thing. That's always a blast. Without an audience, things are a little quieter, and people are a little more likely to share deeper feelings. I like that we can do both.
CAKE: It's exciting to hear on this tour you'll be doing a special presentation of "Make Your Thing" for the New York audience, featuring John Hodgman. Please tell the uninitiated about how "Make Your Thing" was born. What's been one of the most memorable Q&A question you've received in the past?

JESSE: I think I'm probably as well known for starting MaximumFun.org, our podcast network, and my menswear blog Put This On as I am for the shows I host. I'm like the world's most marginal celebrity businessman. The extremely poor man's Mark Cuban. So folks come to me asking me about how to start internet media businesses based around the things they really love to make. I didn't have the time to mentor everyone who asked me, so I put together this talk, just to teach people some basic principles. One of which, incidentally, is that not making a living from creative work doesn't make you a failure at creative work.
As far as memorable questions – I was in Calgary at the Calgary Folk Festival, which is this huge music festival that has nothing to do with folk music. They have a music industry boot camp, and I did my talk there. Part of what I talk about is my story – and I try not to sugar coat the fact that for almost ten years I really didn't make a living. This woman raised her hand and said, "Well, that's great for you, but what about for those of us who can't just rely on our parents' trust funds to pay for our lifestyles?" All accusingly. And I just laughed – it occurred to me that here I am in a suit, white guy, balding, and she thought I grew up rich. When in fact the opposite is true. I mean, I never starved or got evicted, but I qualified for free lunches and paid for doctor visits with stickers from the state of California. And so when I wasn't making money, I had a regular job, and was pretty profoundly broke.
I sort of refocused the talk then. I wanted to make it really explicit that there are a lot of ways to get rich, and making art probably isn't one of them. But with hard work you can make sure there's room for creating in your life, whether or not you have rich parents. And I try to give people permission to do that, no matter what the scale.
CAKE: You'll be doing a show at the Hollywood Forever cemetery in Los Angeles. The heat has been relentless in LA lately. What will be your fabric of choice for the evening?
JESSE: The heat's always relentless under the lights, so I wear Fresco wool on stage. It's a very lightweight wool that's got a high-twist, open weave so it breathes very well. Nature's performance fabric. And it looks presentable and seasonally appropriate, unlike say linen. (I hope you expected a hyper-sincere answer to this question, because it's all I've got.)
CAKE: Are there any new podcast episodes in the works over at Maximum Fun you'd like to plug?
JESSE: We've got some wonderful people on Bullseye – Brad Bird, the director of Ratatouillie and The Incredibles, whose first film The Iron Giant just got re-released. The always-hilarious Matt Braunger, who's also a really thoughtful, lovely human being. Ernie Isley of the Isley Brothers, one of the great R&B guitarists and songwriters of all time. Elvis Costello. Elizabeth Banks. And there's always something fun going on on our sister show Pop Rocket, which is like Bullseye meets The McLaughlin Group. Just four fascinating people arguing about pop culture. Guy Branum, who's one of my favorite comedians in the world, is the host.
And we've got some new shows on the horizon for 2016, including one that we produced a season of already that's really wonderful. It's called Magic Lessons, and it's hosted by Liz Gilbert, who's a novelist probably most famous for her book Eat, Pray, Love. Her new book is about having the courage to be creative, and she is just an amazing person. I know you might think she's corny, but she's not – she's brilliant and also hilarious. On the show she talks to people who are stuck on something, and along with some of her pals (like Cheryl Strayed and John Hodgman) works on getting them unstuck. It's really something special.
CAKE: What other projects will you be busy with this fall besides "Judge John Hodgman," "Jordan, Jesse, Go," etc.?
JESSE: Do I really need more projects?
Actually, now that I think of it, I just launched the shop for my menswear blog Put This On. We sell hand-made pocket squares, but now also lots of other stuff, like scarves and vintage men's stuff. I'm really proud of it.
Mentions: Get a list of the other tour dates HERE. Click HERE to listen to Bullseye and other Maximum Fun podcasts.