Quick Dish LA: Lindsay Ames' MY DIARY Show 10.4 at UCB Sunset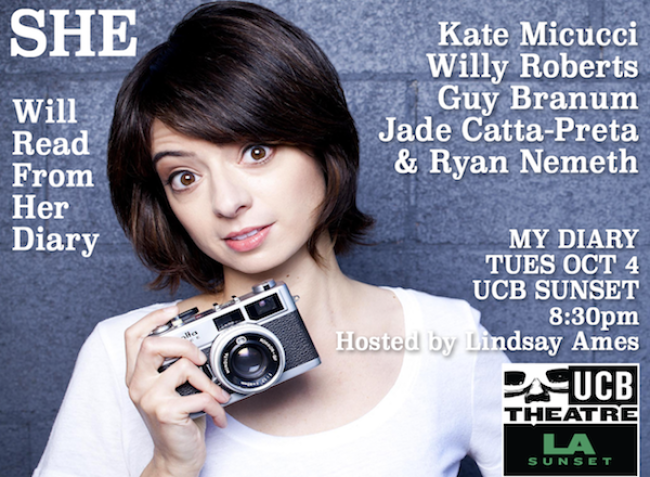 Lindsay Ames' MY DIARY show is back to explore the secrets that lay dormant in the diaries of your favorite artists. All those juicy secrets will come out (Tuesday, October 4th at UCB Sunset) in the form of stand up, storytelling, sketches, videos or whatever else tickles these performers' fancies:
Kate Micucci
Comedian, Musician, Actress, Artist (Garfunkel and Oates, Don't Think Twice)
Guy Branum
Comedian, Writer (The Mindy Project, Another Period)
Jade Catta-Preta
Comedian, Actress (Ladylike, Girl Code)
Willy Roberts
Actor, Set Designer (Transparent, Weeds)
Ryan Nemeth
Athlete, Author, Perfomrer (WWE NXT, Lady to Lady)
Oooooh wheeee, this show is going to be an all-star genie opening the bottle night!
Mentions: Doors 8pm. Show 8:30pm. Get tix HERE. Only $5. UCB Sunset is located at 5419 W Sunset Blvd, LA.