LAYERS: JASON NASH'S New Feature Film, FML, is A Thoughtful Story of Relationships & Technology
If you thought comedian/actor/writer/director/Vine star JASON NASH's first feature film Jason Nash is Married was a magical, comedic experience then you'll be overjoyed with his second feature. FML, as you no doubt know is short for "F**k My Life," is more than just a "buddy" adventure starring a multitude of Viners and social media stars. Besides being the first-ever film written, directed and starring Vine stars, this cinematic delight really tugs at the heart strings, teaching valuable lessons about balancing life and technology to both the young and over 40 crowd. With a cast including stars Nash, Brandon Calvillo, Busy Phillips, Andy Daly, and top online influencers, the movie follows an unlikely team of social media "pals," Sam (Nash) and Henry (Calvillo), who find themselves in a time sensitive situation. Sam is 40ish stand-up comedian whose family is low on funds. His buddy, Henry, sick of his money leeching family, just wants to be with a beautiful Instagram model on the East Coast, played by Jessica Serfaty. Sam devises a plan to travel cross-country to "collab" with social media stars on the Reload platform on a quest to attain a million followers.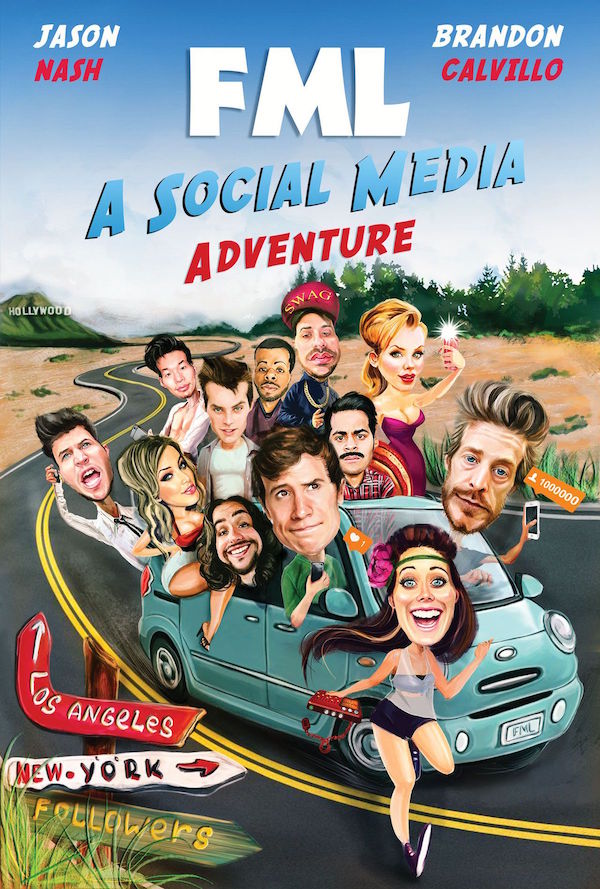 Some of the standout performances come from the folks Sam and Henry meet on their fantastic road trip. I thoroughly enjoyed the king of music video parodies, Bart Baker, as an ethically questionable Justin Bieber type named $WAGG, who plays a key role in Sam's master plan. YouTuber Jimmy Tatro truly impresses as, Bobby Fellows, the overbearing social media consultant and, up and coming actor, Nik Keswani, will blow you away in his role as the wicked hospital patient, Dominic. There are so many great performances in this film it's impossible to note them all. You'll want to watch this gem to the end because there is some sweet improvising happening (post credits) from Nash and Calvillo regarding the film's most heinous energy drink. All in all, I believe this film really captures the insanity of social media while delivering deeper messages about the importance of love, friendship and connecting with those around us. Download it on iTunes today!
Mentions: More info at the film's website. Check out our other post about FML (which includes the list of influencer cameos).