Added on March 14, 2017
Deborah Thomasian
FINE A Comedy Show , Urban Social House
Quick Dish LA: Find Yourself Some FINE Comedy Tonight 3.14 at The Urban Social House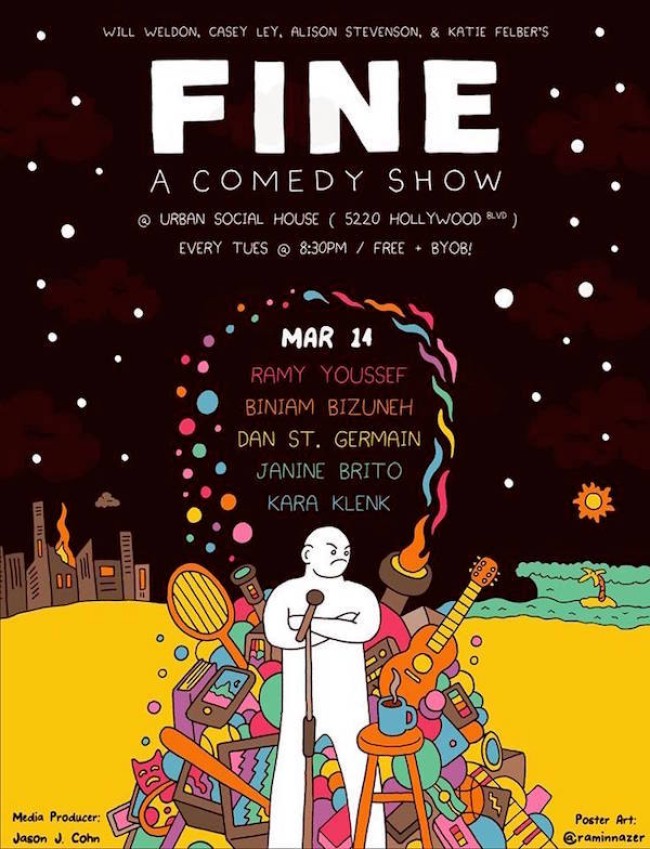 It's only Tuesday! Good heavens, get me some good eats and laughs STAT! If you just said those exact words to yourself, then you need to treat yourself to some FINE Comedy TONIGHT at Urban Social House. As you gorge on quality sandwiches and imbibe coffee & spirits (in no particular order), get a lo to these funny folk:
Dan St. Germain
Ramy Youssef
Biniam Bizuneh
Kara R. Klenk
Janine Brito
Brought to you by Will Weldon, Alison Stevenson, Casey Ley, and Katie Felber
Don't miss out!
Mentions: Show 8:30pm. FREE + BYOB! Urban Social House is located at 5220 Hollywood Blvd, Los Angeles. Poster by Ramin Nazer.