Icing: We Talk to UNITARD About Their Upcoming Residency at Joe's Pub Starting TOMORROW 5.3
How many comedy groups do you know who have been performing for over 15 years? That's OK, I won't berate you Billy on The Street style for not coming up with one pronto. One amazing comedy group that has stood the test of time starts their residency at Joe's Pub TOMORROW. UNITARD was kind of enough to spill the beans on their upcoming shows in New York, plus talk about their inception and unique brand of comedy. The comedy trio, composed of Mike Albo, Nora Burns, and David Ilku, have performed from coast to coast, as well as visited our Canadian neighbors to the north. When they are not burning the midnight oil in the NYC West Village, they are collectively and individually performing at fests like Aspen Comedy festival and SF Sketchfest and venues like Joe's Pub in NYC, the Andy Warhol Museum, The Maui Cultural Center, and the HBO Workspace in LA. Celebrities like Parker Posey, Sandra Bernhard, RuPaul, Lady Bunny, Debbie Harry consider themselves big fans of their work, so I why wouldn't you want to add yourself to that esteemed list? Learn more about this NY-centric staple that's been rocking their high-flying, outspoken brand of comedy over a decade. You can see Unitard in… Tard Core! (There Are No Safe Words), directed by Paul Dobie, at Joe's Pub on these dates:
Wed, May 3 , 2017 at 9:30pm
Wed, May 31, 2017 at 7pm
Wed, June 28, 2017 at 7pm
Wed, July 26, 2017 at 7pm
COMEDY CAKE: What's the story behind the forming of Unitard (and that name, of course)?
MIKE ALBO: Nora is the wrangler. She is the one who got us all working together! And Ilku thought of the name because he is genius nutball :)
NORA BURNS: We were all doing our own twisted stuff and I saw Mike in his brilliant solo show and asked him if he'd do a show with me. I've known David since NY club days, but I honestly don't remember how or when we started working together, all of a sudden he was just there in a crazy wig and a giant diaper and I was like Yes! Of course he thought of the name, Unitard.
DAVID ILKU: If my memory serves me well, Nora was up in Provincetown MA and was given a couple of weeks to fill at a venue. At the time she was in a comedy group called The Nellie Olsons. She brought Mike up to do a week then me up and one night Mike and I over lapped and the 3 of us did a show together. That was the birth. The name I believe I submitted, thinking it had to be a name or word that sounded funny just saying it or hearing it. "Uni", meaning one and "tard"… well we 3 are.
CAKE: How would you describe your kinky brand of sketch comedy?
MIKE: We serve up sizzling social satire that's been drowned in sriracha sauce.
NORA: Any extreme that takes people out of their comfort zone, as long as it's smart, specific and FUNNY, is worth doing : In the past we've had a Jihadi stand up saying "I've had it up to here with beheadings', a Junkie talk show host shooting up, or the burlesque act: 2 Boys, One Didgeridoo and a Bucket of Shit. Tard Core is continuing the tradition with talking hemorrhoids, assholes and polyamorous people. You want people in the audience looking at each other and going 'Oh no he didn't'!
DAVID: Dangerous adult comedy. We take you where you have privately gone in your own thoughts, and then beyond.
CAKE: Name some of the comedic performers you are most inspired by and why you love them.
MIKE: We adore our queerish downtown comedy friends like Lady Bunny, Jackie Beat, Adrienne Truscott, Justin Vivian Bond, Angela DiCarlo, Jill Pangallo, Amber Martin, Shane Shane. It's our nutty scene that inspires me the most!
NORA: Like every other comedian of a certain age I got my start imitating Carol Burnett, and I love Tina Fey and Key & Peele, but honestly my inspiration has come from watching downtown NY performers like the Boy Bar Beauties and Jackie Factory put on a brilliant show with a handful of sequins and a yard of spandex or in Lady Bunny's case, several yards.
DAVID: I would have to say the great legendary ones. Jackie Gleason, Lucille Ball, and the TV show Laugh In, and Monty Python. There was an absurdity in all of them, and my childhood was very sad, so the more absurd the better.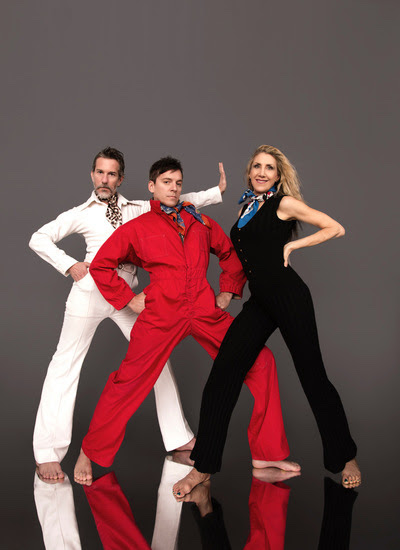 CAKE: What have been some of your favorite cities to perform at?
MIKE: We love performing in LA. We seem to get there for a stint when we come up with a new show. The wondrous Cavern Club Theater in Casita Del Campo in Silverlake is our second home. It's also the home of some of our favorite performers (and friends) like Jackie Beat, Love, Connie, and many more…there is nothing better than the smell of old drag queen makeup backstage there.
NORA: Besides NYC? Well, LA rocks, and we love performing in Ptown, it's one of the places we got our start, but now we usually just do a couple of shows for simpatico locals instead of doing a 6-show-a-week run. It's hell to promote and most of the tourists there want to see queens from Drag Race anyway. But weirdly one of the best places I ever performed was Columbus Ohio.
DAVID: Well New York will always be number one. The audiences are most open, fearless and appreciative. We love LA and San Francisco, and Provincetown, and we're open to finding new potential favorite, that we've never been yet.
CAKE: How do you come up with ideas for your sketches?
MIKE: It usually starts with one of us going off the rails about some annoying thing that is happening in our weird world – like people who only talk about themselves or those people you see waiting five hours in a line for sneakers. Then we marinate in our irritation and disgust and think of a few different approaches. Then we get together and gossip and read through our scripts in the last 20 minutes of the meeting and wa-la!
NORA: We love doing rotten characters: shirtless guys on Facebook, over-sharers, celeb-worshippers, anything republican, but we also make fun of ourselves, no one's out of our reach.
DAVID: Each one of us has a slightly different approach, but I myself love to go for the rotten.
CAKE: What do you have in store for your audiences at the Unitard residency at Joe's Pub this May through July?
NORA: Of course the election colored everything, but we're not going to compete with The Daily Show, so it's still our brand of annoying people, social Tom Foolery and scatological shit, but with a slimy orange glaze.
DAVID: We try to be a voice for the audience, which speaks from a New Yorkers perspective on things The everyday frustrations of life in the modern world and the alternative world of the current administration. We will be addressing: waiting in lines, protesting and hemorrhoids on a certain orange person, among other things.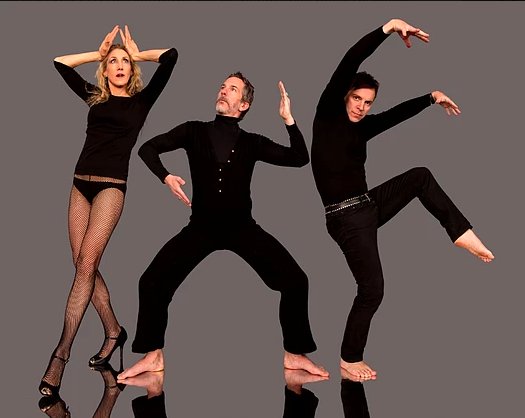 CAKE: You have many celebrity fans of your work, do you think a few might pop by during your residency?
DAVID: Yes, most definitely. They think we're funny, talented and famous.
CAKE: What do you think are the biggest challenges of slipping into a unitard?
MIKE: Making sure it fits over my oversized issues of body dysmorphia.
NORA: Camel toe
DAVID: Not slipping and not laughing while doing it.
CAKE: What other projects do the members of Unitard have lined up?
MIKE: I'm continuing to tour my solo show Spermhood here and there – hopefully LA, DC, Toronto, etc while scrabbling together enough money to afford to live in this city.
NORA: Hopefully run this show at Joe's through the fall and then tour it. I'm also hoping to keep doing my solo show David's Friend some more, but I miss Mike and David when I perform alone.
DAVID: I have been working on and developing a cabaret act as well as some writing projects. We would love a TV show, or "special" on one of the many networks out there… Hello… anyone?
CAKE: What do you believe is the greatest dessert ever invented?
MIKE: This really white trashy dessert called dump cake, which is basically cake mix, cherry pie filling, butter and brown sugar thrown into a pan and baked.
NORA: Coconut Cake or anything with Marzipan.
DAVID: Jello 1 2 3 or Shake-A Pudd'n.
Mentions: Get more Unitard news HERE! All images Aaron Cobbett.