Quick Dish LA: Lindsay Ames' MY DIARY Show 5.20 at UCB Sunset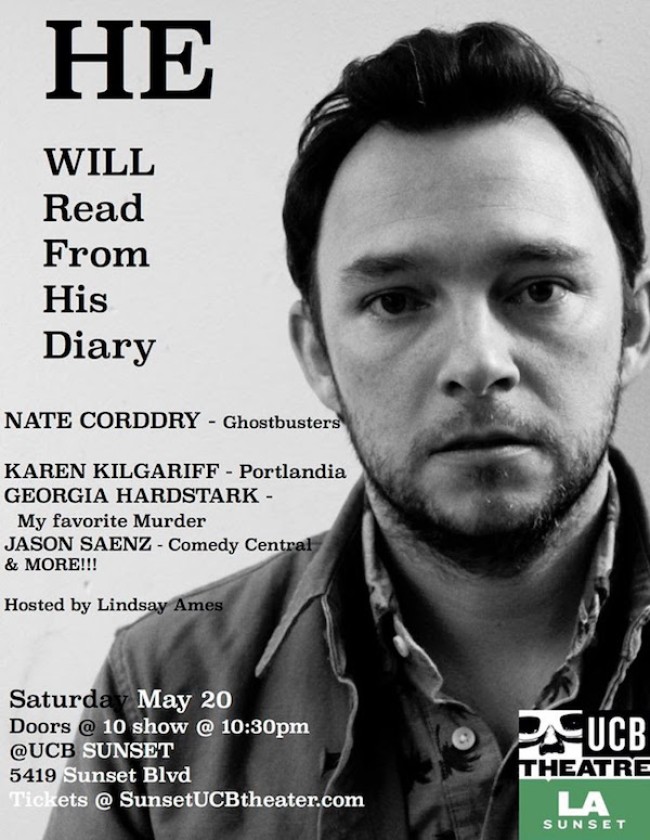 I couldn't be more happy the weekend is almost upon us. I'm just as thrilled to let you know the monthly hit show MY DIARY is back next weekend for more fun memories and occasional sniffles. Lindsay Ames' My Diary, to be exact, brings together performers from all walks of life (comedians, actors, artists, athletes, etc.) to the UCB Sunset stage to unleash the secrets that lay within their diaries. So how are these secrets brought into the light? Through stand-up, storytelling, sketch, videos, or whatever tickles the performers' fancies. Saturday, May 20th, these talented individuals express their emotional past:
Karen Kilgariff (Portlandia/ My Favorite Murder)
Nate Corddry (Ghostbusters/ Childrens Hospital)
Georgia Hardstark (My Favorite Murder/ Drunk History)
Jason Sáenz (Comedy Central/Adam Ruins Everything)
Kimi Recor (Draemings)
Hosted by Lindsay Ames!
Let it all come out (because it's never good to keep that stuff bottled up)! GO!
Mentions: Doors at 10pm, Show at 10:30pm. Get tix HERE! UCB Sunset is located at 5419 W Sunset Blvd., Los Angeles.