Quick Dish LA: HUMANS! Comedy Hosted by A Robot 8.24 at Amplyfi ft. Brent Weinbach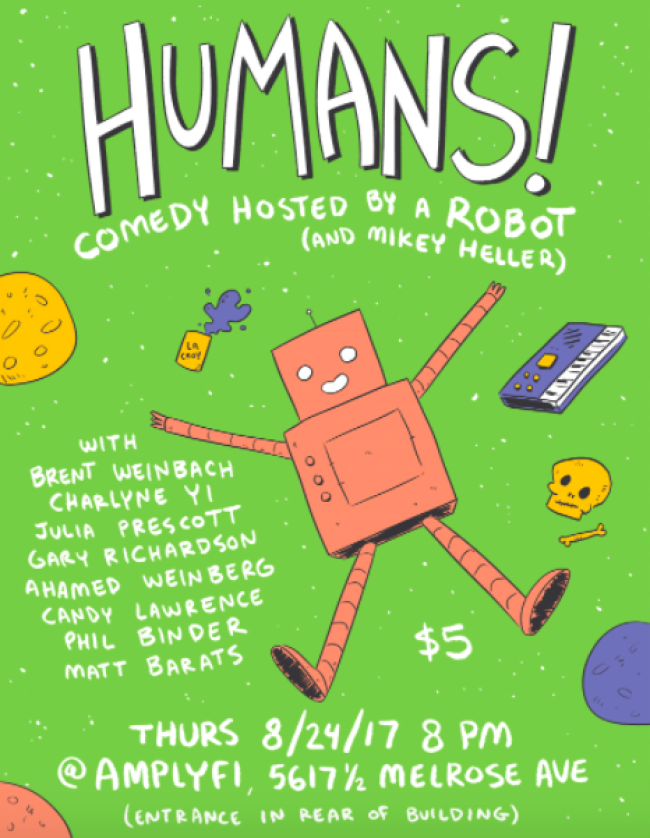 The robots are taking over, so why not accept our mechanic overlords peacefully. Shhhuuuush… there, there, it will all be over soon. Thursday, August 24th at Amplyfi on Melrose HUMANS! Comedy is hosted by a Robot and you're gonna LOVE it, you obedient human underlings. This comedy night features the finest and strangest performers LA has to offer. Your slightly less robotic lineup includes:
Brent Weinbach
Charlyne Yi
Julia Prescott
Gary Richardson
Ahamed Weinberg
Candy Lawrence
Phil Binder
Matt Barats
Hosted by a Robot and Mikey Heller (Cartoon Network)
Do you enjoy laughter and the occasional robotic meltdown? Then this show is for you! GO!
Mentions: Show 8pm. $5. Amplyfi is located at 5617 1/2 Melrose Ave, Los Angeles, CA (entrance in rear of building). More on Facebook.