Quick Dish NY: Two Chances to See GO RICKI! in New York This September
Double your pleasure, double your fun! Kids, TOMORROW, September 9th and Wednesday September, 20th you can see the Ricki Lake (circa 90s) inspired gab fest known as GO RICKI!, hosted by the ultra fabulous Matt McCormick. The first September show will will take place at Muchmore's for the 2017 Cinder Block Comedy Fest in Brooklyn. The topic of the evening will be "Lying, Spying, Sneaking, and More… Today on 'Ricki', We've Got Secrets Galore!" and the guests will include:
Mamoudou N'Diaye (America's Black Friend)
Stine An (Comedy Studio)
Molly Kornfeld (Babes in Boyland)
Caitlin Peluffo (Women in Comedy Festival)
Gianmarco Soresi (Matza Pizza)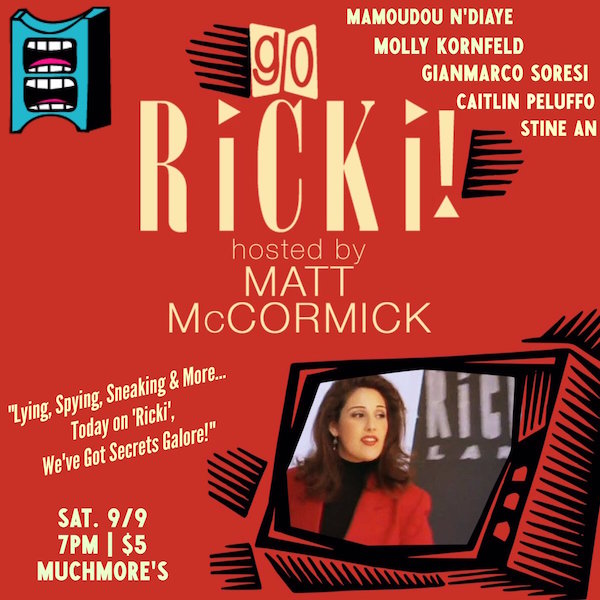 The second show will be Go Ricki's regular run taking place at QED Astoria. The topic of the moment will be "Honey, Quit Blaming PMS…Let's Face It, You're Just a Bitch!," enhanced by participants
Erin Lynn O'Connor (Awkward Stage Comedy Show)
Mister Dixon (The Al Sharpton Show)
Kendall Ketchum (opener for Darrell Hammond)
Catherine Montesi (Story Pirates)
Dylan Palladino (The Scene)
Be there, because missing out would be simply scandalous!
Mentions: Muchmore's show happens at 7pm. QED Astoria show happens at 7:30pm. Muchmore's is located at 2 Havemeyer Street, Brooklyn, New York 11211. Q.E.D. Astoria is located at 27-16 23rd Avenue
Astoria, NY 11105.