Quick Dish LA: Have A Ball at INDIAN WEDDING & Diwali Celebration 10.21 at Nairi Banquet Hall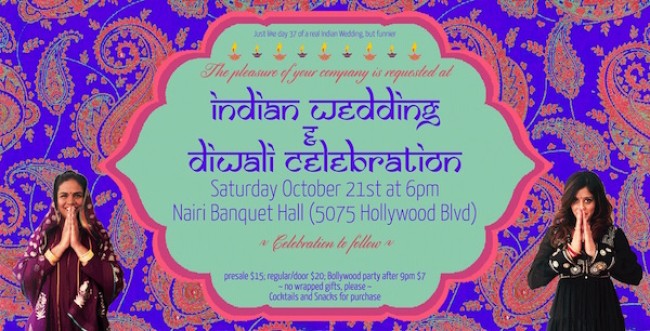 Weddings have some of the best parties you could ever attend, so what if you brought the party festivities of an INDIAN WEDDING and Diwali Celebration to a comedy audience? Saturday, October 21st at Nairi Banquet Hall you can live it up with sister Pinky and Bubbly (Amrita Dhaliwal & Sunanda Sachatrakul) at one of the biggest party nights of all the Indian wedding events, Sangeet night. To add to the fun, Diwali, the largest festival in India where participants celebrate light, a new year, property and more, is the perfect time to get this wedding jammin.' Think of this event as a cross between a live variety show and "Tony n' Tina's Wedding" where comedy, dance, and music acts thrive (and help celebrate Pinky & Bubbly's brother's wedding). The Indian Wedding usually runs every other month at Three Clubs in Hollywood but this special event will be held at Nairi Banquet Hall in LA. Don't miss the only South Asian show in Los Angeles with Bollywood flair featuring
Hula Hooper Dancer Francesca Chandi Devi
Neal Dandade, The Groom's Cousin
Yogen Bhagat's Dancers
Anne Akhila Rubins Kang with Traditional Dance
Headliner stand-up comedian Sabrina Jalees
And MORE!
GO! GO! GO!
Mentions: 6pm door, 7pm show, 9pm dance party. Buy $15 presale tix HERE! $20 at the door. Post 9pm dance party only $7 (tix at the door). Food and drink available for purchase. Nairi Banquet Hall is located at 5075 Hollywood Blvd., Los Angeles, CA 90027.