Quick Dish LA: December 6th & 7th FRED WILLARD to Host The Annual Christmas Variety Show SANTA-THON 2017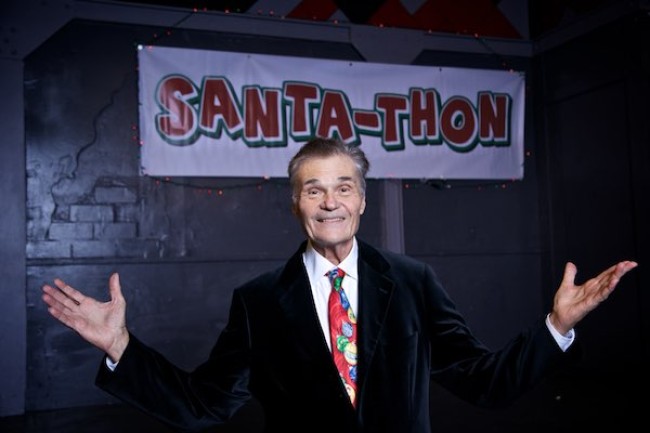 It's beginning to look a lot like the best time of the year! I hope not all of you have been naughty this year because Santa is coming to town. Wednesday, December 6th and Thursday, December 7th the incomparable FRED WILLARD (Modern Family, Review) will host the Annual Christmas Variety Show SANTA-THON 2017 at The Greenway Court Theatre with some very special Celebrity Guests.
The Emmy Award winning actor, known worldwide for his work in Christopher Guest's Best in Show, as Phil's dad in Modern Family and so much more, will host the fifth annual Santa-Thon 2017, which "centers around a celebrity telethon thrown together to help a bankrupt Santa pay­off his debt to the Chinese toy makers in order to save Christmas for all the boys and girls." Yes, you read that right, kids. Santa needs help! Fred will enlist the help of his Show Biz Pals to do whatever it takes to raise the dough for sweet St. Nick, including bringing you musical numbers, dance routines, celebrity cameos and comedy sketches. Among the guest stars featured you will see
Jo Anne Worley (Rowan & Martin's Laugh-In, Broadway)
Bruce Baum (The Simpsons)
Fritz Coleman (KNBC, It's Me, Dad!)
Jimmy Brogan (Carson, Leno, Letterman)
Judy Nazemetz (The Tonight Show with Jay Leno)
The Boobe Sisters (The Gong Show)
Kira Soltanovich (The Tonight Show, You Did This To Me!)
PLUS numerous SURPRISE GUESTS! (Past years guests have included Jay Leno (Jay Leno's Garage, The Tonight Show), Tom Kenny (SpongeBob Squarepants), Kate Flannery (The Office), Jay Johnston & Bob (Tony winner "The Two & Only", Soap ) and Ted Lange (The Love Boat)
Be there to find out if Santa will be able to bring the world one more Christmas! GO!
Mentions: Tickets ($25, $30, plus student discount) are available at www.greenwaycourttheatre.org/santathon/ or call the Box Office at (323) 673-0544. December 6 and 7 at The Greenway Court Theatre. The Greenway Court Theatre is located at 544 N. Fairfax, Los Angeles, CA 90036. Mike Colasuonno, former Tonight Show writer and producer, is the Executive Producer of Santa-­Thon 2017, hosted by Fred Willard.