Quick Dish LA: IF YOU BUILD IT Tonight at UCB Sunset Hosted by Kara Klenk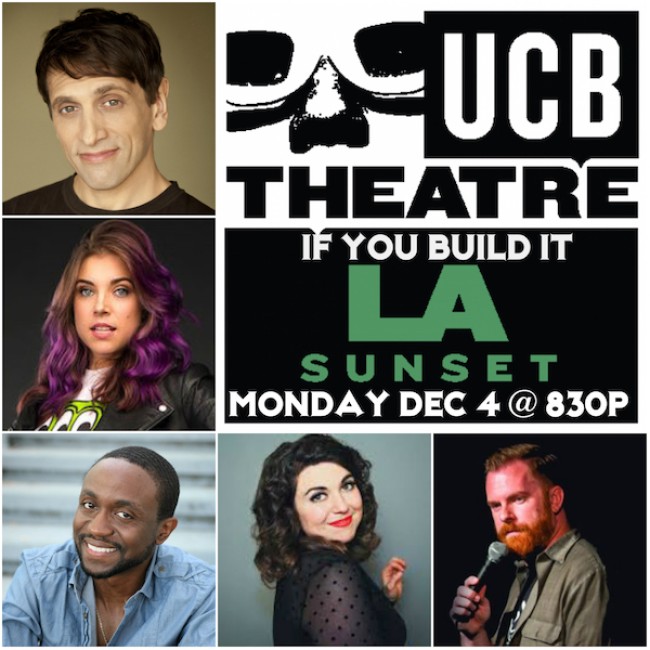 Speaking of building things, did you know Amazon Warrior Not So Princess-ey has patented a self-destructing drone? That doesn't sound scary at all. Go about your business. Nothing to see here. And now back to your regularly scheduled programming. TONIGHT is IF YOU BUILD IT hosted by Kara Klenk at UCB Sunset. Hooray! We promise there will be NO drones in the theatre, but it is possible one followed you on your way to. *stuffs paranoid alter ego into the trunk* Your lineup for TONIGHT is something we are sure would get an approving Kevin Costner head nod, kids. We think you'll have a stand-up blast with this lot:
HOWARD KREMER
(Who Charted on Earwolf, TV Land)
ELIZA SKINNER
(Drop the Mic, The Late Late Show w/ James Corden)
BYRON BOWERS
(Jimmy Kimmel Live, MTV's Guy Code)
JENNY ZIGRINO
(Comedy Central Half Hour, Conan)
BRYAN COOK
(Drop the Mic, Big Money @ The Virgil)
& MORE!
Be there for all the pre-holiday merriment TONIGHT! Big Brother is always watching.
Mentions: Show 8:30pm. Buy tickets HERE. UCBT Sunset is located at 5419 W Sunset Blvd, Los Angeles, CA 90027. Follow the show on Twitter, Facebook, Instagram, and Tumblr.