Tasty News: 5.12 MaximumFun.org Parenting Podcast 'One Bad Mother' Live Show Coming to CHICAGO
The MaximumFun.org comedy parenting podcast One Bad Mother will be heading to Chicago this May. Hosts Biz Ellis and Theresa Thorn will record a live show Saturday, May 12 at the GMAN Tavern and be talking about that very unnatural state of being that is motherhood. The show, which is four years in and over 236 episodes strong, will include a conversation on a parenting-related topic, plus the much appreciated genius/fail and rant segments with audience participation and "teeny tiny trophies." The ladies will be joined by a special guest and be signing their recently released book "You're Doing A Great Job: 100 Ways You're Winning at Parenting," from Countryman Press. Do you want to know what two fab women/parents/podcast hosts have to say about their upcoming live show in Chicago? READ!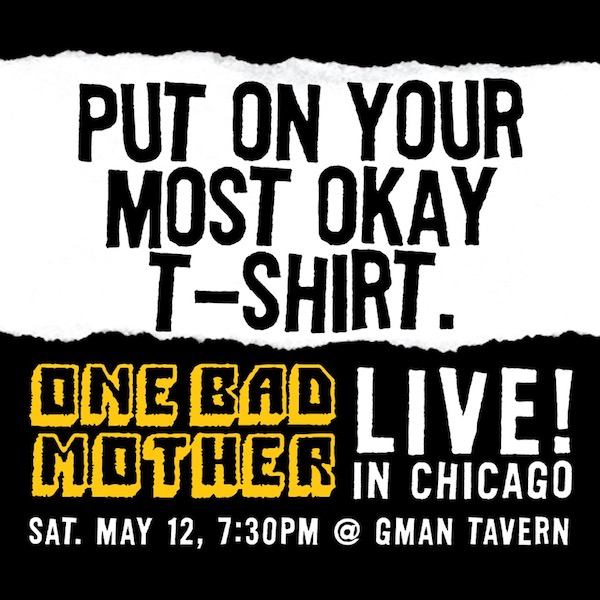 "We love Chicago and are so excited to be there….not in winter! My old sketch comedy group, MEAT, and I performed at Chicago SketchFest for many years, so I've only been there in the middle of January and really look forward to seeing Chicago without snow. I also, was younger and not a parent so I enjoyed Chicago very differently… The big differences are that I like better beer now, and can't sleep past 6AM no matter how late I stay up. Oh, and I have kids." – Biz Ellis
"We are so excited to desert our families and spend Mother's Day weekend as it was meant to be enjoyed: Without kids! …in all seriousness this show has been a long time coming. We love our Chicago listeners and can't wait to crowd together in a bar to commiserate, laugh and cry about all the things that are so universal about parenting!" – Theresa Thorn
Yep, those are two honest to goodness quotes from TWO Bad Arse Mothers, Chicagoans!!! Language, my dear! Start gathering your holiday earnings because tickets are currently on sale and starting at just $25! We hope you have a blast in the Windy City!
Mentions: Doors at 6 p.m., show at 7:30 p.m. 21+. Tickets HERE! Drinks & swears. GMAN Tavern is located at 3740 N Clark St., Chicago, IL 60613. One Bad Mother is produced by listener supported comedy and culture network, MaximumFun.org. More info at www.onebadmotherpodcast.com.