Quick Dish NY: Improvised Sci-Fi Podcast MISSION TO ZYXX Live Taping 1.21 at CAVEAT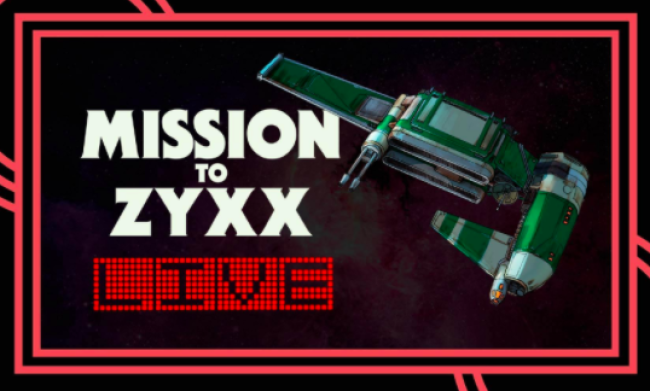 What could be better than a sci-fi sitcom podcast LIVE taping? Not a whole lot, kids! Get yourselves over to the world of MISSION to ZYXX this Sunday, January 21 at Caveat. Time for some backstory:
In Season One, pinkish AMBASSADOR PLECK DECKSETTER, know-it-all droid C-53 and hulking, omnisexual security officer DAR traveled aboard the seen-it-all sentient starship THE BARGAREAN JADE on their mission to establish diplomatic relations with planets in the remote and frankly crappy ZYXX QUADRANT, while being poorly managed by JUNIOR MISSIONS OPERATIONS MANAGER NERMUT BUNDALOY on behalf of the definitely-not-evil FEDERATED ALLIANCE. But after the thrilling events of the Season One Finale, what will befall them now as they hurtle through THE SPACE toward unknown destinies!?
Exactly, what will happen! Find out this Sunday with the amazing cast of Jeremy Bent, Alden Ford, Allie Kokesh, Seth Lind, Winston Noel, Moujan Zolfaghari and SPECIAL GUEST Keisha Zollar (The Opposition w/ Jordan Klepper). W00t!
Mentions: Doors 3:30PM, show 4:00PM. 21+. Buy tickets HERE. Check out all MISSION TO ZYXX episodes HERE. Caveat is located at 21 A Clinton st., New York, NY 10002 (between East Houston and Stanton in the Lower East Side, about a five minute walk from the Delancey F train). Seats are first-come, first-serve. Caveat serves 10 well-curated beers on tap, 10 wines by the glass and 8 by the bottle, a selection of ciders and digestifs, tasty French sodas PLUS yummy dishes from the kitchen.