Tasty News: Tomorrow SHAWN WICKENS Records His "Secret" Experimental Live Comedy Album at Countdown Theater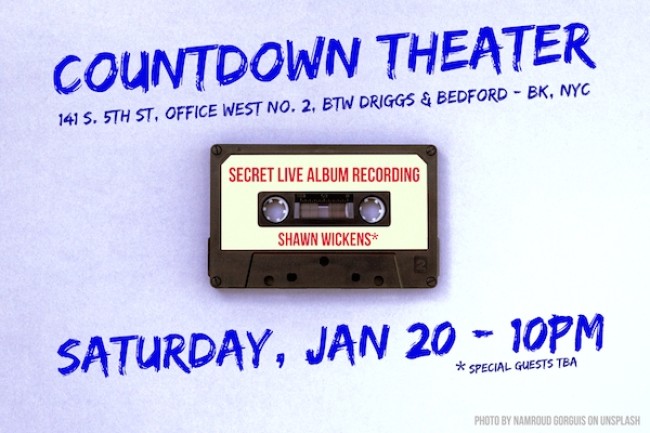 Shush. Shuuuuush. We have a secret for you. Well, we should say comedian SHAWN WICKENS does. He will be recording a "Secret" experimental live comedy album in front of 20 people TOMORROW in Brooklyn. The live recording will happen at the Countdown Theater of Williamsburg, which just so happens to hold 30 people max. Someone call the fire inspector! Tickets will be by donation and available at the door on a first come, first served basis, obviously. The "secret" recording of "secret" material is a follow-up to Wickens' debut album which was made up of sets he recorded at open mics titled Silly Jokes @ Sorry Open Mics. Per the comedian,
"The topic of this second album I'm keeping a secret because, to be honest, if people heard what it was about I think they would laugh… but then just not come. My wish is that the execution of this idea transcends the idea itself, so you gotta keep it a secret and surprise the audience in the moment," shares Wickens. "Friend and fellow comedian, Lex Morales, once saw a set of mine and told me, 'You don't really tell jokes. You just sort of f*ck with the audience.' Sadly… he might be right."
I think this Wickens chap is onto something. The comedian is the co-founder of New York City's Bad Theater Fest and Bad Film Fest which exhibit and celebrate a wide-range of works. Some of his other performance endeavors have included telling jokes on stage after staying awake for 24 hours, giving the world "brain injury jokes" he wrote during a concussion, making the audience sign non-disclosure agreements for a one-of-a-kind and one-time-only private performance PLUS taking his signature show Good Joke/Bad Joke Bingo around the U.S. If you liked to see a unique performance from a one of a kind individual come to this show (if you can get in)!
Mentions: Show 10pm. Live Recording. The Countdown Theater is located at 141 S. 5th St., Office West #2, Brooklyn, NY. Tickets are by donation and available at the door. Wicken's album Silly Jokes @ Sorry Open Mics is available on Spotify, iTunes, Amazon and more. See Wickens perform a half hour of stand-up at Eastville Comedy Club Saturday, January 27 at 6pm with Comedian Perri Gross opening. Read more about Shawn HERE and follow him on Twitter.