Video Licks: Bill Cosby takes over Late Night with Jimmy Fallon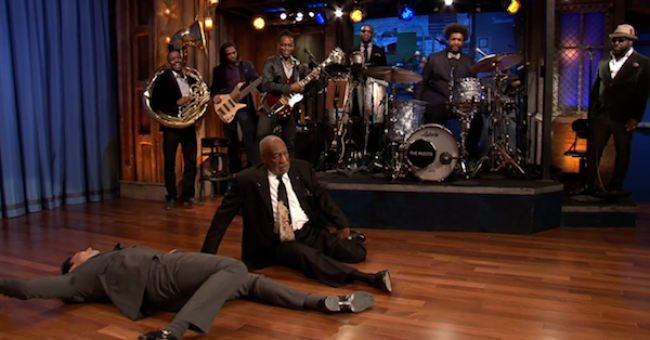 Bill Cosby's appareance on Late Night with Jimmy Fallon was nothing short of epic. Bill was on to promote his new Comedy Central televised concert Far From Finished which airs on Comedy Central Saturday, November 23. It's been 30 years since he had his last concert but his antics on Fallon certainly don't reflect that. Bill hijacked the camera from beginning to end.

Right of the bat Cosby started out interviewing with an audience member instead of Fallon.

Bill made The Roots test out some funeral tunes

Bill mocked Jimmy in true Cosby style

Finally, Bill grilled Jimmy on where he acquired his copy of Fatherhood
Mentions: Watch Far From Finished Saturday Nov 23 at 8p/7C on Comedy Central. Check out Bill's Far From Finished tour dates HERE.