Quick Dish NY: JOKE NO MORE Experimental Comedy TOMORROW at Vital Joint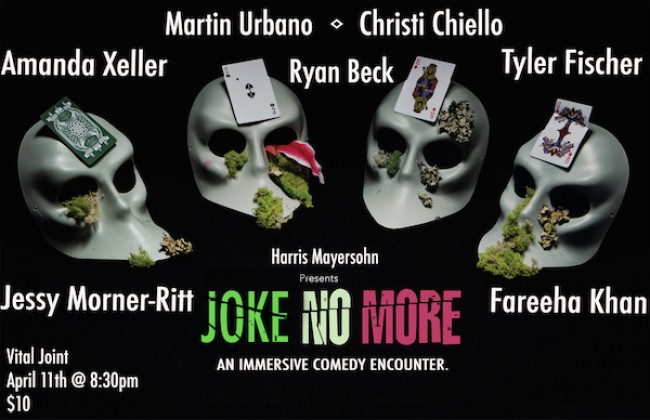 If you've ever dipped your toesies into the theatre experience known as "Sleep No More," then you're aware it is an immersive production that adapts the story of Shakespeare's MacBeth with an almost Escape Room of Scotland type feel. If you survived that spoken dialogue experience, then you'll be happy to hear that a parody of said production is coming at you TOMORROW April 11th at Vital Joint. Hey, life's not all tragedy! Instead of an unintelligible Shakespeare play you will enjoy an evening of stand-up, while still getting a taste of the "one-on-one" interactions of the popular original. We understand "comedians playing characters will steal masked audience members throughout the night, letting them have unique, unrepeatable comedic encounters with some of the best characters/comedians in New York." Your Master of Ceremonies for the evening is the honorable Harris Mayersohn (Colbert) who will be joined by this tasty lineup of characters/comics:
Christi Chiello
Martin Urbano
Ryan Beck
Tyler Fischer
Amanda Xeller
Fareeha Khan
& Jessy Morner-Ritt
Expect the unexpected!
Mentions: Doors at 8pm / Show at 8:30pm. $10 at door. NO BYOB. Vital Joint is located at 109 Meserole St., Brooklyn, NY 11206.