Tasty News: Comedians Reveal Their Secrets on New Podcast YOU CAN TELL ME ANYTHING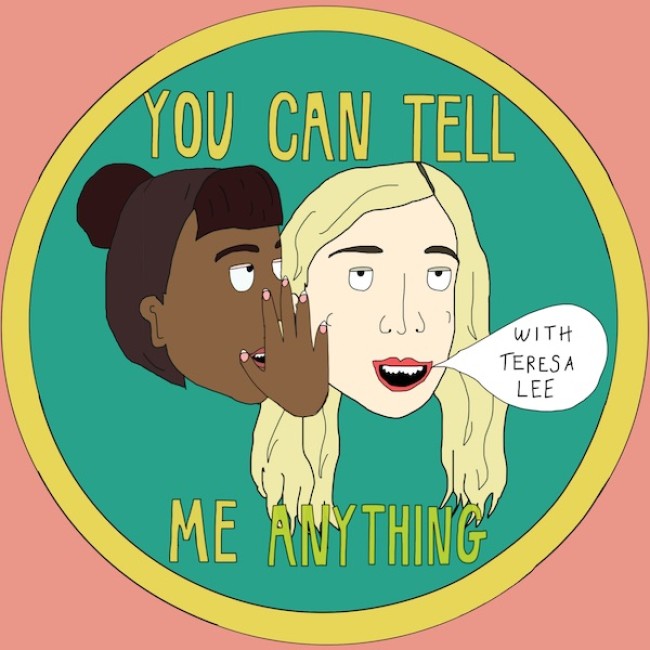 Stand-up comedian Teresa Lee is dipping her toe in the podcast pool with a new program where no secret is safe. You Can Tell Me Anything features comedians confessing something they've never told a soul. That can include anything from teenage obsessions to fibbing about first kisses. So is this an advise podcast? Hell no! There is definitely forgiveness involved, but that's about as close to preachy this podcast will get (not painful at all). Upcoming guests on the show will include Kate Willett, James Austin Johnson, Ever Mainard, Charles Gould, and other swell comics from your favorite shows.
The first episode, now available on Apple Podcasts, features Edgar Momplaisir (Co-host of Culture Kings, UCB house team Leroy) revealing some college courtroom drama he experienced. You'll also be treated to original games like "Taylor Swift or Craigslist Poetry?" and "What Is This Youtuber About to Confess?". Sound enticing? Of course, it is! It's secrets! Ear candy awaits!
Mentions: New episodes will be released weekly and available on Apple Podcasts, Stitcher, Soundcloud, and wherever you get your podcasts. Teresa Lee has written for Good Mythical Morning, Cracked and MTV's Middle of the Night Show. She's also been featured on NBC Asian America and was a finalist on Standup NBC. This show is produced by Samee Junio, who is the artistic director of the new Ruby podcast network and Hello, Lionface. Logo artwork by Jamie Loftus. Follow YCTMA on Instagram!