Quick Dish NY: STAGGARS & JAGS Musical Comedy TONIGHT at The Shanty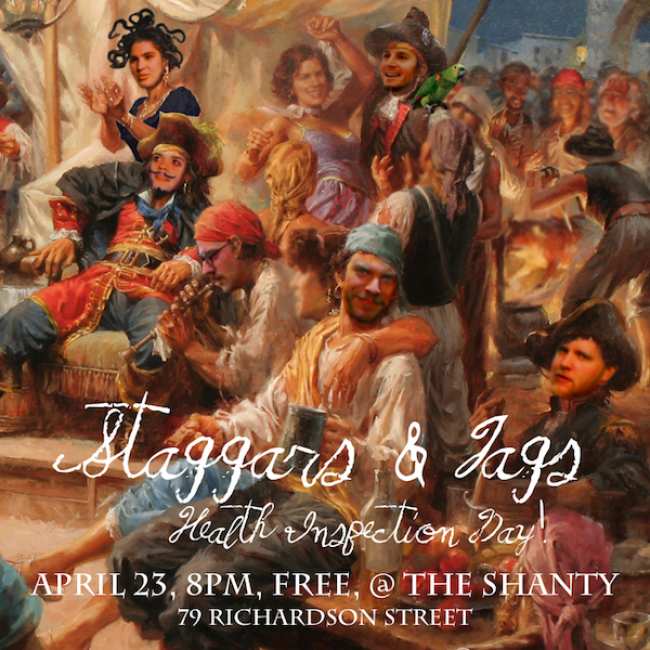 Coming at you from the NY Distilling Company, is a new, one-of-a-kind musical comedy complete with pirates, music, and tons of singing. Set in an 18th century Caribbean bar, STAGGARS & JAGS, is a show that encourages the audience to sing along and get wrapped up in the semi-flamboyant world of head scarves and eye-patches. The year is 1778 and the pesky old health inspector is about to stick his nose in The Shanty's business. It just so happens a young boy is about to wander into bartenders Staggers & Jags' establishment as well, wreaking some of his own havoc in the process. Did we mention mythical creatures, figures of the law, fierce sea captains, and mothers in search of their lost children will be in the mix? This is gonna be one hell of an inspection! The cast include Caitlin Dullea, Danny Groh, Dan Hanf, Rachel Kaly, Sander Randall, Clay Russell, Maya Sharma, Riley Cecil Taggart, and Amanda Ariel Peggy Xeller. Get your laughs and piracy on TONIGHT!
Mentions: Show 8pm. FREE! The Shanty is located at 79 Richardson Street, Brooklyn, NY 11211.