Quick Dish LA: THE BUSINESS 8.6 at Little Joy Hosted by Megan Koester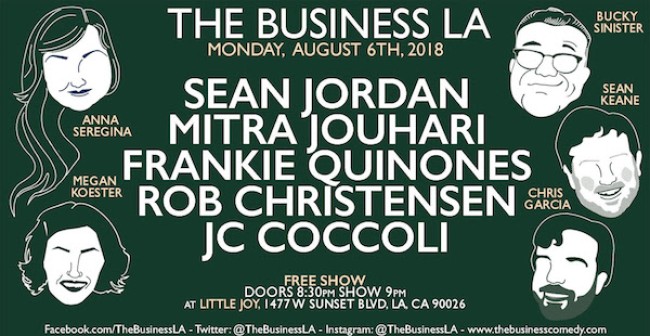 Its nobody's business what you get up to on a Monday evening, however, it is OUR business to tell you about THE BUSINESS. Yes, it's Friday and I'm out of ideas. OK, back to business! This Monday, August 6th at Little Joy, come harken memories of the "pre-tech bubble #SF comedy scene" with this gang of humor artisans:
Sean Jordan
Mitra Jouhari
Frankie Quinones
Rob Christensen
JC Coccoli
featuring The Biz Gang: Chris Garcia, Sean Keane, Bucky Sinister & Anna Seregina, hosted by Megan Koester!
When your business is making folks laugh, then is your leisure time spent making them cry? Don't think about that too much and come see the show!
Mentions: Doors at 8:30p, Show at 9p. FREE! Little Joy is located at 1477 W Sunset Blvd., LA, CA 90026. Don't miss the fun Every Monday!