Icing: Practice Pays Off for KATE WILLETT in The Second Installment of Netflix's THE COMEDY LINEUP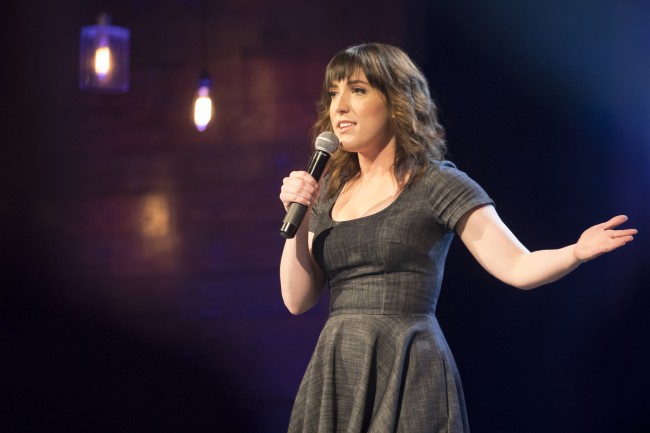 When I hear "Netflix and Chill," I don't think streaming Ozark with a side of heart palpitations (not that there's anything wrong with that). If you're looking for an uplifting subscription-based program to soak up, may we suggest Netflix's THE COMEDY LINEUP series. Not only is PART 2 of the stand-up feast a one-stop shop for a diverse spread of comedic talent (you may not have been exposed to), but you'll not be looking behind your back after you've binged it.
We were lucky enough to interview one of the shining stars of this special, KATE WILLETT, who's brand of humor could be branded as relatable (to most) feminist storytelling. Willett covers a heap of dating subjects from tackling immature men to our head-shaking hookup culture. She also handles more serious subjects like sexual harassment and breaking what she calls the "Glass Gutter" with true candor and finesse, while, of course, making you laugh in the face of the patriarchy. If you were unfamiliar with her work before, this special is a great introduction to see what Willett's humor is all about.
In addition to being featuring in The Comedy Lineup, Willet has been a correspondent for the JIM JEFFERIES SHOW at Politicon '17, been featured on Viceland's FLOPHOUSE, appeared on Comedy Central's THIS IS NOT HAPPENING, and has toured with Margaret Cho around the world. Learn about what went into preparing for her The Comedy Lineup performance, her foresight about fellow comedian & now The Comedy Lineup vet Aisling Bea, and what projects she has lined up in her very bright future. Enjoy!
COMEDY CAKE: What's the response been like to your 15-minute special?
KATE WILLETT: So far I've gotten a lot of great messages on Twitter, Instagram and email. My favorite one was from a 71 year old woman. I'm really happy about the wide variety of folks that seem to have enjoyed it. I expected that other sad girls like me would be into it, but it seems to be people of all ages and lots of men too.
CAKE: How much preparation went into the crafting of that set?
WILLETT: So much. I was doing 4 shows a night in the months leading up to this special. I actually wore athletic shoes most of the time so I could run between shows. I've had a lot of these jokes for a while but I wanted to find the best, tightest, funniest versions of them so I was constantly tweaking things and changing them around, until about 2 days before the taping.
CAKE: Do you ever start drafting jokes as you are in the thick of a memorable experience? Do former paramours ever get in touch with you about jokes that may have covered them?
WILLETT: Yeah! I wrote my Burning Man story (which is on the This Is Not Happening Youtube channel) the day I got back from Burning Man. I went to an open mic to try it out still covered in dust from the desert. Former flings get in touch with me all the time to say "I saw you wrote a joke about me," and it's hard to know how to say, "that joke wasn't about you, it was actually about a different man-bun guy."
CAKE: What advice do you have for women just starting their careers in comedy?
WILLETT: Same advice I'd give any comic just starting out. Go up as much you can. When I started I tried to do 10 sets a week and kept track of them in a little notebook. That way when I was tired or grumpy I'd still feel motivated to just put down another tally mark. You get better through practice so the more practice you get the better.
CAKE: Any sage wisdom you can pass on as far as dealing with comedian travel partners?
WILLETT: Hahaha. Traveling with people is one of the funnest parts of comedy. Even if someone is annoying you in the moment it will probably be fun in retrospect. Try to be easy going and enjoy the opportunity to get to know someone. I think it's unique to our profession. I don't think bankers get to go on random road trips together.
CAKE: When you watch the special do you analyze your set or fast forward through to the other performers?
WILLETT: Like most comics I find it very hard to watch myself. I've watched the special twice (once before it came out and once with friends when it came out.) I probably won't put myself through that again.

CAKE: Had you performed at that Atlanta venue before?
WILLETT: I've performed in Atlanta a bunch, but never at Terminal West. I usually perform at Laughing Skull when I'm in Atlanta, it's a great club!
CAKE: Did you like to cater your set to specific audiences or do you make them all-purpose?
WILLETT: I don't really cater to specific audiences, I just do what I do.
CAKE: Who have been some of your favorite performers in "The Comedy Lineup" series? Did you get to hang with the performers outside of recording time? Any fun stories you can relay from the ATL performance?
WILLETT: Okay, I love all these performers and have met almost everyone before, so I don't want to pick favorites. It's a really great group of comics. So I'll tell you about a weird coincidence instead. I met Aisling Bea and hung out with her years ago in Ireland, before either of us ever did stand up comedy. I was studying abroad at Trinity College where she went to school, and I remember watching her perform and thinking "she's going to be famous." I hadn't seen her since Trinity College until the Netflix taping but it was wild to see her after all this time in a totally different circumstance.
CAKE: What upcoming projects do you have on the horizon?
WILLETT: I'll be debuting a new podcast pretty soon! Follow me on Twitter/IG for the info when it comes out. I'm also going to be doing some touring this fall– DC, Atlanta, North Carolina, San Francisco, Los Angeles, Maryland, and Vermont. Dates are on my website!
Mentions: Get more helpful Willett info HERE. Be sure to catch Part 2 of THE COMEDY LINEUP on Netflix! All images care of Netflix Media Center.