Quick Dish LA: Get Silly with IDIOTS COMEDY 11.7 at The Clubhouse
As the holidays approach, we know you'll need a place to unwind as the stress builds. May IDIOTS COMEDY lend a hand in this dire time of need. The amazing standup show will fulfill all your humor desires and then some. November's lineup includes:
Ahmed Bharoocha (Dream Corp LLC)
John Roy (Conan)
Janine Brito (Out On Stage)
Ryan Singer
Merrill Davis
Chris Thayer
& the boys David Venhuizen, Dan Gill & Colin McCormick!
With a lineup like that you can't go wrong! GO!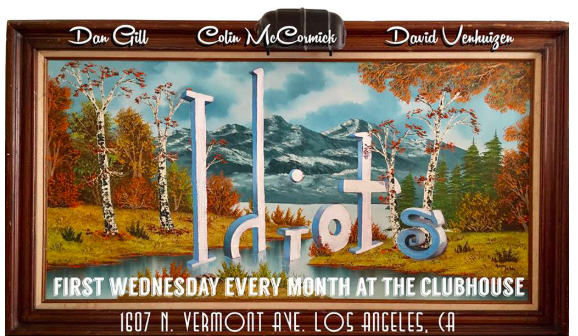 Mentions: Show 8:15pm. FREE!!! BYOB or suggested donation appreciated for refreshments. The Clubhouse is located at 1607 N Vermont Ave., LA, CA 90027.