Quick Dish LA: THE FROGTOWN SHOW 11.10 at Spoke Bicycle Cafe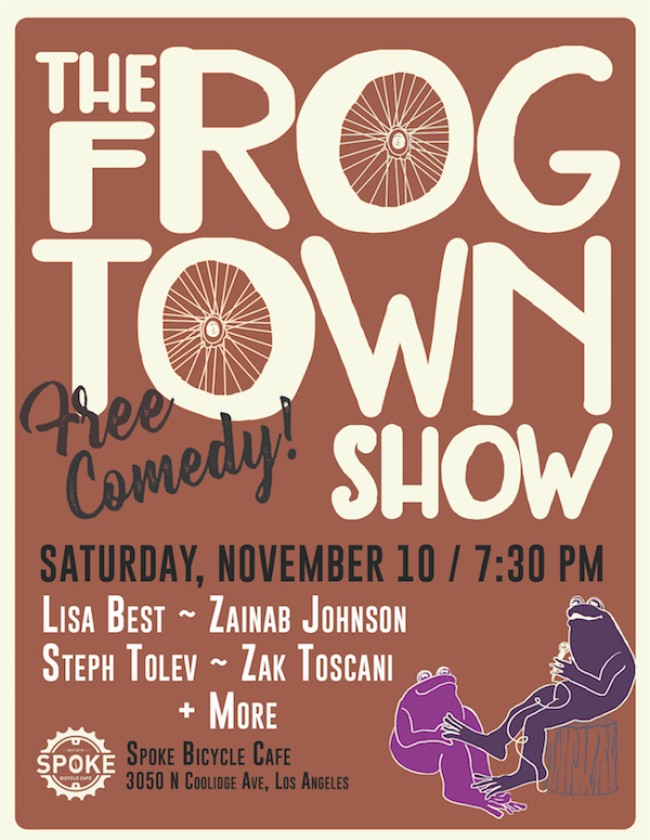 Food, drinks, and comedy, what more could you want in life? OK, maybe shelter and companionship, but they aren't THAT important, right?! You'd totally trade them for cake and giggles, wink wink, nudge nudge. Saturday, November 10th at Spoke Bicycle Cafe leave your worries at the door and bask in the talent of the professionals. The next very FREE installment of THE FROGTOWN SHOW will features performances from
Lisa Best
Zainab Johnson
Steph Tolev
Zak Toscani
+ More!
Hosted by Emily Maya Mills, Erin Lennox, Christian Duguay, Cory Loykasek and Donny Divanian & Produced by Laura Schwartz and Kesila Childers
Take time out for yourself this weekend. You're totally worth it!
Mentions: Show 7:30pm. FREE!!! Food & drinks specials! Spoke Bicycle Cafe is located at 3050 N Coolidge Ave LA, CA. Ride your bike down the river or ride share! Keep up with show happenings on Instagram!