Tasty News: DRUNK HISTORY & CORPORATE Return with New Episodes 1.15.19 on Comedy Central!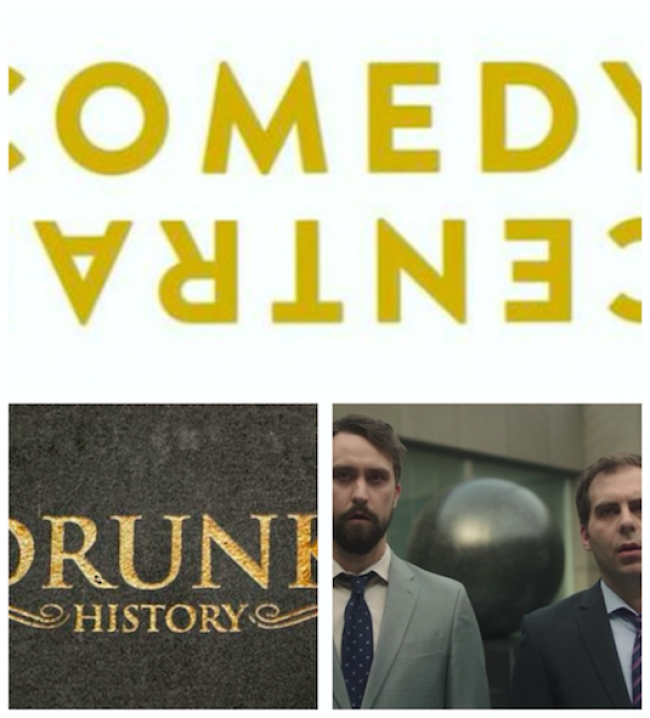 Yep, it's been a long dry spell since we departed from our beloved Drunk History and Corporate. However, there is glorious Comedy Central comedy news to report! The NEW SEASON premiere date for these two wonderful programs is set and it is Tuesday, January 15th. Yes, 2019 couldn't come soon enough! It will be Drunk History's inebriated and hysterical SIXTH SEASON, which I understand features a Mary Shelley's Frankenstein Are You Afraid Of The Dark parody episode (that's a mouthful) starring Evan Rachel Wood as Mary, Seth Rogen as Dr. Frankenstein, Elijah Wood as Percy Shelley, Jack McBrayer as Lord Byron, and Will Ferrell as Frankenstein's Monster, all narrated by Rich Fulcher. Wowsers, that's a impressive list! Can't wait!
As for Corporate SEASON TWO, they too will be having some star-studded fun. Corporate stars series' creators/writers/executive producers Matt Ingebretson and Jake Weisman return as two Hampton DeVille Junior Executives-in-Training who work for their corporate overload CEO Christian DeVille (Lance Reddick) and his lieutenant underlings John and Kate (Adam Lustick and Anne Dudek), occasionally aided by their often self-serving HR ally Grace (Aparna Nancherla). The new season will include notable names like Kyra Sedgwick, Elizabeth Perkins, Kristen Schaal, Sasheer Zamata, Baron Vaughn and Andy Richter stirring things up, I'm sure. Yes, Pat Bishop will again be behind the scenes directing in his coyly creative way. Embrace the laughter (yes, not physically) beginning Tuesday, January 15 at 10:00 p.m. ET/PT and 10:30 p.m. ET/PT respectively! Woohoo!
Mentions: Follow Corporate on Twitter, Facebook and Instagram. Follow Drunk History on Twitter, Facebook, and Instagram.