Quick Dish NY: THE KIDS ARE OK, I THINK – They Are Doing Solo Shows 1.29 at The Footlight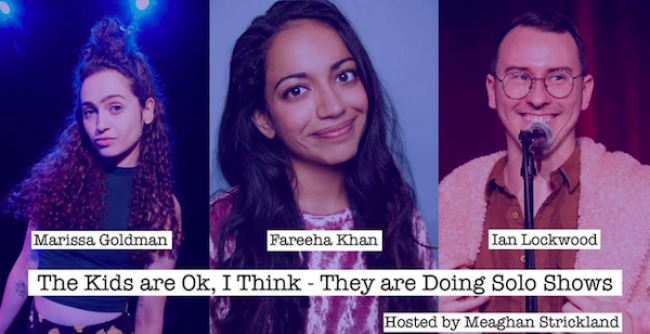 Some of your favorite "indie-alt-punk-experimental-cute-Brooklyn Comedy" performers will be debuting their experimental, in-progress comedy specials Tuesday, January 29th at The Footlight. The ONE NIGHT ONLY THE KIDS ARE OK, I THINK – They Are Doing Solo Shows event of comedy specials in development will include
MARISSA GOLDMAN: Gamer Girl in which Goldman (Babycastles, VICE) previews a fictional video game, where she plays every character, in a comedic performance utilizing video and audio elements.
FARHEEHA KHAN: 7th Grade Funny featuring Khan (Decoded, Reductress, 'SUP) as she explores being a Pakistani American grown ass woman with a sense of humor of a teenage boy through stand up, characters, and some other sh*t.
IAN LOCKWOOD: I Got To Be Me with Lockwood (Hot Teens, Bingo Bango, Bitch!) taking you on a dizzying whirlwind of stand up, characters, songs, videos, costume changes, and an exploration of self-esteem that will leave audiences saying "good outfit" and "I GOT to be me!"
Al hosted By Meaghan Strickland!!!
Throw all those boring shows out the window with the bathwater and check out this glorious event!
Mentions: Show 7pm. Suggested donation of $5-$10 at the door. The Footlight is located at 465 Seneca Ave, Ridgewood, NY 11385.