Tasty News: Listen to This Super Funny Yoga Pants Track from GREG STONE's "The Amazing Greg Stone" Out TOMORROW
Holy Wookie, if you don't laugh at GREG STONE's (The Break with Michelle Wolf, The Rad Dudecast) The Amazing Greg Stone, out TOMORROW via Comedy Records, then you probably have a chemical imbalance. Seriously, go have yourself checked out. He may not be able to go out in a Spider Man costume on Halloweenm, but, dear Teenage Mutant Ninja Turtles, he sure can make people laugh hard (most especially the folks at Creek and the Cave in Long Island where the album was recorded and THIS gal). The album has something for everyone, including the signs of a good relationship, the great towel argument, a crazy transgender bathroom story, IKEA furniture frustrations, stepdad hypocrisy, the best pot cookie story on the planet, the great Paris robbery, and the most hilarious hospital room prank revenge story ever. In case you don't believe the Comedy Cake hype, have a listen to this track titled "I Hate Yoga Pants" where Greg makes a funny point about sexy workout wear and who's actually wearing clothes for themselves:
Stone's standup has been featured on AXS TV's Gotham Comedy Live, TruTV, SiriusXM Radio, and NBC's America's Got Talent. He was a writer for Netflix's The Break with Michelle Wolf and The 2018 White House Correspondents Dinner and is the co-host of The Rad Dudecast with Anthony Devito and Brendan Eyre. In just a few hours,10:30pm to be exact, you can see Greg LIVE at The Comedy Cellar's Fat Black Pussycat Lounge for his album release show with Anthony Devito (CBS Late Show with Stephen Colbert, Comedy Central Adam Devine's House Party, This American Life). Don't miss the chance to laugh with a comedy super hero!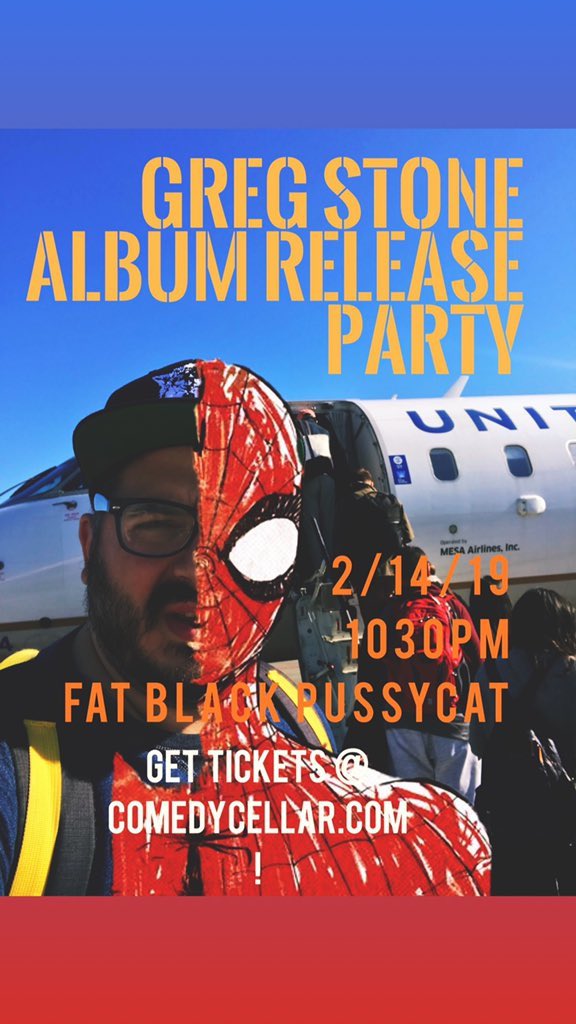 Mentions: The Amazing Greg Stone is available TOMORROW wherever comedy albums are sold or streamed. Pre-order on iTunes TODAY! Follow Greg on Instagram!