Tasty News: COMEDY CENTRAL Launches Digital "Originals" Channel with Sweet Development Slate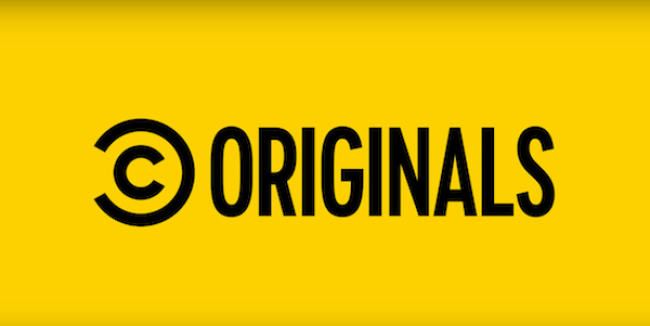 Hold your horses for this one, kids. COMEDY CENTRAL is extending their comedy tentacles with their latest launch. Behold the Comedy Central Originals YouTube channel, a digital place where your can watch the very best in original comedy. Comedy Central recently launched the Comedy Central Stand-Up Channel on YouTube so the new launch of the CC Originals YouTube channel now gives you even more reasons to stick around on your favorite video-sharing website. It was also announced that the "#1 brand in comedy" will be releasing an impressive digital development slate that features pilot orders, new and returning series, stand-up and social content. Per Comedy Central Senior Vice President of Digital, Jen Danielson, "The launch of the Comedy Central Originals channel on YouTube further expands our reach and provides our fans a one-stop destination to engage with best in class original content that is made for the platform, culturally relevant, personally relatable and most importantly – makes you laugh." Check out just some of the content you can expect to be part of the digital development slate (and rolling out across CC's social platforms like Facebook, Instagram, Twitter, Snapchat, cc.com):
PREMIERES
March 11: Comedians Solve World Problems: Comedians give their answers to the world's problems. The world is in crisis. Watch four comics throw a couple of ideas out there and see what sticks. In addition to the US version, nine other versions will roll out across Comedy Central International social and digital platforms in the following regions: Middle East and North Africa (MENA), Asia, GSA (Germany, Switzerland, Austria), France, Spain, Benelux (The Netherlands, Belgium, Luxemburg), South Africa, Mexico and Brazil.
March 15: Shane Torres Conquers Your Fears: Comedian Shane Torres (Comedy Central Stand-Up Presents) will use the power of immersion therapy to help fellow comedians be a little less scared in their lives. A few examples of what you can expect in season one include comedian Molly Austin (Comedy Central's Up Next) confronting a live python, Petey DeAbreu (Comedy Central Stand-Up Featuring) having night night time with a baby hedgehog, and Casey James Salengo (Comedy Central Stand-Up Presents) facing the "Gauntlet of Rejection."
March 19: UNSEND: Celebrate "Twitter moments, viral meltdowns, thirst traps, clapbacks, comment trolls, and more" with hosts Joel Kim-Booster (Conan, The Other Two) and Patti Harrison (Tonight Show With Jimmy Fallon, A Simple Favor). Created by Deanna Cheng (Heathers) and Matt McConkey (Heathers and the Homophilia podcast) and is produced by Paul Scheer (The Disaster Artist, Black Monday), the show covers the best and worst moments on the web bringing you entertainment, sports, trends and celebrity interviews on cringeworthy internet moments (Jimmy O. Yang, Esther Povitsky and more).
April 5: My Least Favorite Thing series: Watch Zach Bornstein travel to meet a celebrity as they prepare to do the thing they hate the most. During the celeb's "experience," the viewers will learn all about that celebrity's personal and professional life. Oh my!
RETURING SERIES
Dollar Store Therapist: A low-budget therapist (Connor Ratliff) working out the back of a discount store offer's up his best advice.
That's An App?: Enjoy parody commercials for the latest technological solutions for those pressing first world problems.
Mini-Mocks: In the style of 60 Second Docs, you are immersed into a whole new world of mockumentary possibilities.
You Didn't Wanna Know: Comedians bring you PSA parodies of the things you "didn't want to know" about common aspects of life. Episodes include: Bugs In Your Food ft. Jim Gaffigan and Turtles Have Salmonella ft. Ben Schwartz.
March 11Thank You, Goodnight: Follow comics as they hustle between shows in New York City. Season One comics included Joel Kim Booster, Yamaneika Saunders and Casey James Salengo. Season two features Emmy Blotnick, Tim Dillon and Nore Davis.
Spring: After Hours w/ Josh Horowitz: Each episode Josh Horowitz takes your favorite celebrities to dream destinations. Featured celebs include Liam Hemsworth, Tiffany Haddish, James McAvoy, Benedict Cumberbatch, Anna Kendrick, Alexandra Daddario and many more.
IN DEVELOPMENT
Agree to Disagree: Comedians debate hot button issues like: "which is better — tots or onion rings?"
Mad Memes: A high-energy show where comedians tell you which memes are primo investment opportunities.
Sex Fails: Comedians reveal their lowest sexual moments, while animators bring those stories life.
Tales From the Trip: The animators provide the visual while the comedians share their wildest psychedelic drug stories.
Mentions: Immerse yourself in Comedy Central Originals now.