Quick Dish LA: The Six-Month Anniversary of THE FILLING Tomorrow 5.15 at Lyric Hyperion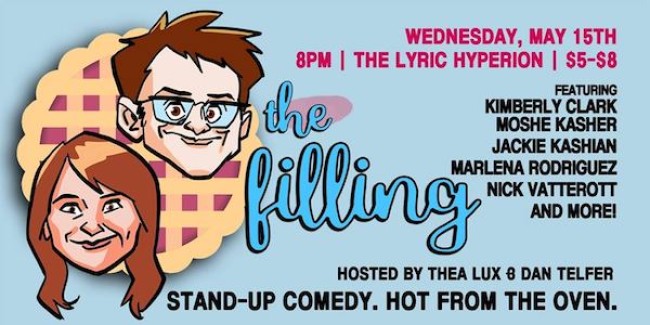 So what's the best part of the pie, the scrumptious filling, of course! TOMORROW at Lyric Hyperion, come celebrate the six-month anniversary of THE FILLING, the best home-cooked stand-up show in LA. Hosts Thea Lux and Dan Telfer welcome this sinfully good lineup:
Moshe Kasher
Jackie Kashian
Nick Vatterott
Marlena Rodriguez
Kimberly Clark
Amy Miller and more!
Take a generous bite tomorrow night! Hey, I rhymed without even trying. *pats self on back*
Mentions: Show 8pm. Still only $5! The Lyric Hyperion is located at 2106 Hyperion Ave. LA, CA.