Quick Dish LA: MERMAID COMEDY HOUR Tonight at The Hollywood Improv
While Justin Bieber eggs on friggin' Tom Cruise to a UFC battle, allow some talented funny women to show off their comedy dominance TONIGHT at The Hollywood Improv. This MERMAID COMEDY HOUR lineup is, once again, outstanding and needs to be flaunted. Come start the week off right with stand-up from:
TAYLOR TOMLINSON (Conan, Kimmel)
MONIQUE MARVEZ (Showtime)
IRENE TU (Viceland)
TAQUITA LOVE (Laughs)
LEAH KAYAJANIAN (Roast Battle)
JENNIFER O'DONNELL (The Ladies Room)
LYNN MALEH (Dirt Pit Lounge)
… PLUS SURPRISE DROP INS!
Produced & hosted by VALERIE TOSI (IFC, Netflix, Sirius XM) & JOLEEN LUNZER (FOX, Armed Forces Entertainment)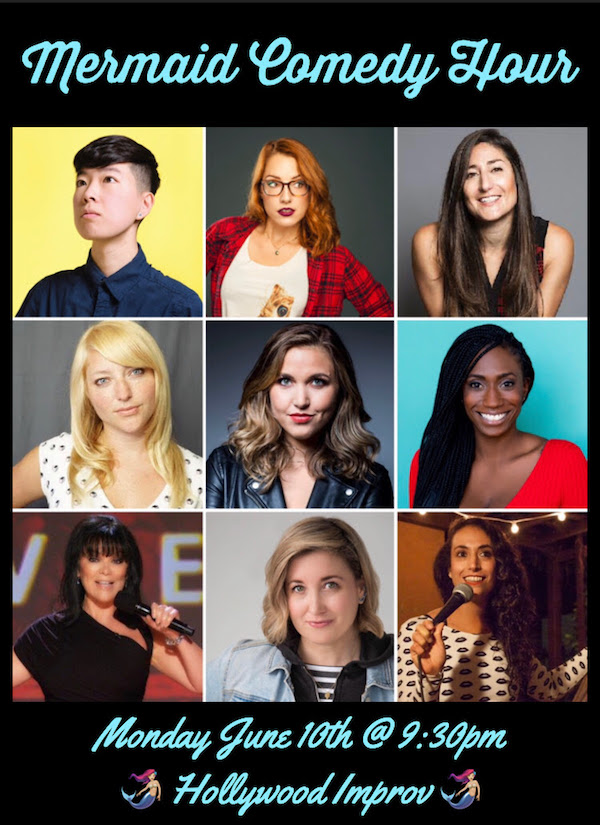 All I imagine in a bout between Tom and Justin, is a quick rear naked choke, followed by tears and some eating crow, but that's just my opinion. Enjoy the show!
Mentions: Show 9:30pm. $5 online or $8 at the door. One item minimum. The Improv – Lab is located at 8162 Melrose Ave, Los Angeles, CA 90046. (Melrose & Kilkea Dr, one block from Crescent Heights)