Quick Dish LA: SAUCE Presents PIZZA COVEN COMEDY FEST Tomorrow at DeSano Pizza
SAUCE Comedy continues a month of ALL-female lineups TOMORROW at DeSano Pizza Bakery. Join Barbara Gray, Jeff Wattenhofer, Erin Lampart, and Brodie Reed as they host some of the best comics in the country at one of the most delicious eateries in Los Angeles! There will be pizza, drink, and plenty of enthusiastic chuckles to go around. This time the PIZZA COVEN lineup includes:
Beth Stelling (Crashing)
Madison Shepard (The New Negroes)
Kristal Adams (Too Sensitive for Comedy)
Corie Johnson (Funnilingus LA)
Jil Chrissie (Comedy Hoe)
Katy French (Laughs on Fox)
Also join in the fun next Friday, June 28th when the laugh party continues with even more fantastic comics! Come on down!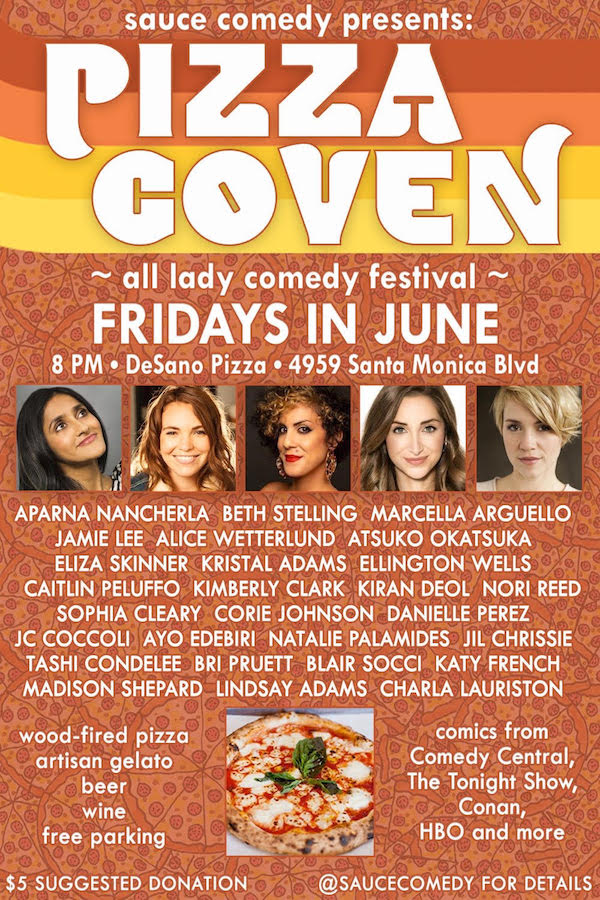 Mentions: Doors 8pm, Show 8:20pm. Order food at counter, they will bring it to the showroom. Arrive at 8 pm for best seating, seating is limited. FREE + plenty of parking! DeSano Pizza Bakery is located 4959 Santa Monica Boulevard, Los Angeles, CA 90029. Artisan pizzas, gelato, primo comedy, $5 beers!