Quick Dish LA: The Best of AMERICA'S TALENT REJECTS Tomorrow 9.13 at Dynasty Typewriter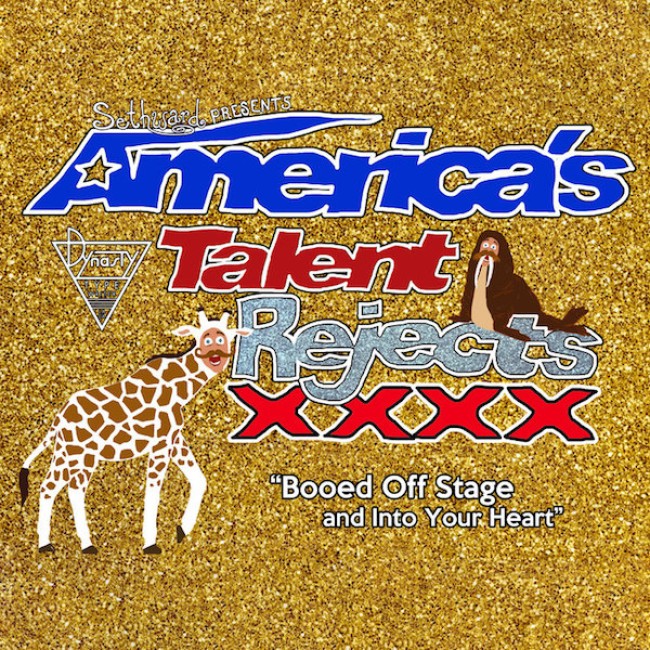 Those who having been reading Comedy Cake for a while will know that we are HUGE fans of the off-wall comedic antics of SETHWARD. You may also know that his talents were featured on the program America's Got Talent where his memorable characters, like the ball balancing Walrus, fumbling Giraffe and transforming Caterpillar, were not giving the credit they most assuredly deserved. Well, TOMORROW, September 13th, at Dynasty Typewriter you can join Sethward and his friends AKA as AMERICA'S TALENT REJECTS for an intimate performance in front of, hopefully, a more accepting audience. The lineup will include:
Sethward, the Giraffe/Walrus
Insta Girl – Nikki Bon
Andy Pigkens – Dave Goetzl
Toilet at Warner Brothers (who does impressions) – Cory Jacob
Death – Erick Hellwig
Stacey Machelle
Jay Light
It is our understand that all proceeds will go to "the acts who fearlessly opened themselves up for America and a billion dollar Got Talent franchise for nothing but a 12hr day in holding and a cold wet sandwich." Sethward and friends FOREVER!
Mentions: Doors 9:45pm. $10 Advanced / $15 Day Of Show. Donations and Tips graciously accepted on Venmo @sethward.Dynasty Typewriter is located at 2511 Wilshire Blvd., LA, CA 90057.