Quick Dish NY: PARTY OF TWO Comedy & Storytelling 9.28 at The Pleasure Chest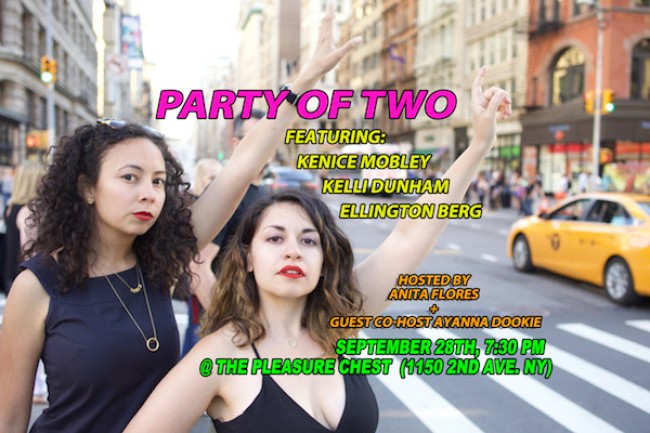 If all those idealistic Instagram relationships and fairytale rom-coms have you down in dumps, don't worry. PARTY OF TWO will set you straight with dating reality Saturday, September 28th at The Pleasure Chest. Anita Flores (Buzzfeed, Univision, Pride.com, Awkward Sex & the City) and guest co-host Ayanna Dookie (Lifetime Network, She Devil Comedy Festival) will host New York City's best storytellers and comedians who will recount their most absurd experiences about dating in the modern world. Your entertainers for the evening will include:
KENICE MOBLEY (Women in Comedy Festival, SiriusXM)
KELLI DUNHAM (Showtime, Discovery Channel)A
ELLINGTON BERG (That's So Fetch! Show)
In addition to all this levity there will be FREE WINE AND CANDY to get you good and happy (if you are of the appropriate age, of course). Join in the fun!
Mentions: Show 7:30pm. Tickets $13 online, $15 at the door. The Pleasure Chest is located at 1150 2nd Avenue, New York, NY 10065.