Quick Dish NY: 'WACK OR WOKE? ANDREA COLEMAN Judges The Law' Tomorrow at The Tank
TOMORROW, September 21st at The Tank in NYC, Andrea Coleman (NY Times, TimeOut NY, SiriusXM Radio, WNYC, NPR) is the judge of one highly energized comedy courtroom. At Wack or Woke? Andrea Coleman Judges the Law, Coleman will serve up her comedic remedy for a black woman not yet sitting on the US Supreme Court. Andrea is a real life lawyer who will riff and rule on some of the craziest laws in US existence. For example, did you know in Gainesville, Georgia it's illegal to eat fried chicken with a knife and fork? Because what human in their right mind doesn't want greasy fingers with their meal, right? Come come expand your legal knowledge with Andrea and these three comedian guest judges:
Blaze Mancillas
Todd Montesi
Wes Hazard
This month, for the first time Woke Laws history, you will have an ALL MALE, ALL POC judicial panel. Now that's a reason to smack that gavel, and bring on the mirth.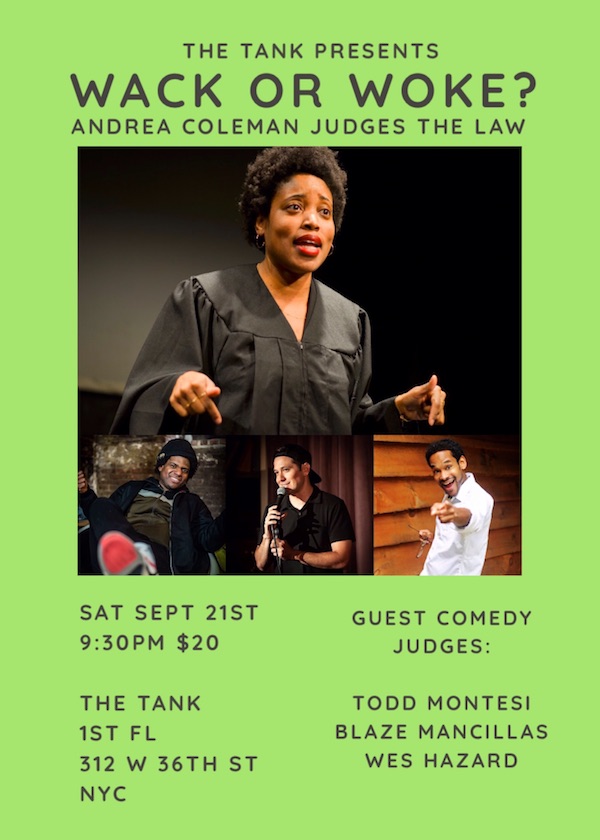 Mentions: Show 9:30pm. Tickets $20. The Tank is located at 316 W 36th Street, 1st Floor, NYC. More about Andrea news HERE, #fandreas. See & hear Andrea on Mornin w/Bill and Joanne 10:30am – 11:30am ET. Hear Andrea on SiriusXM's Tell Me Everything With John Fugelsang 1pm – 2pm ET Channel 121.