Quick Dish LA: Pure & Weary's OFFICE HOLIDAY PARTY Variety Show 12.6 at Skiptown Playhouse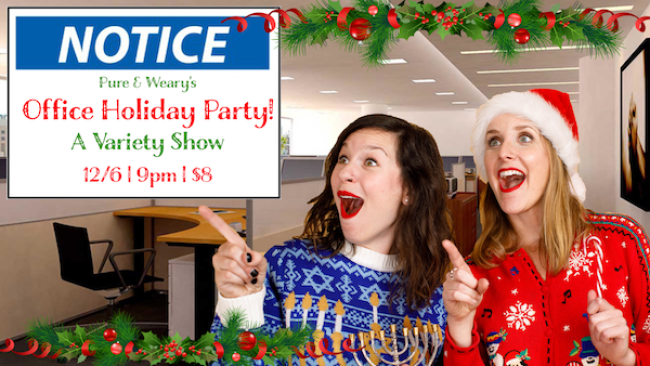 This Friday at The Skiptown Playhouse, a Pure & Weary (Funny or Die, WhoHaHa) OFFICE HOLIDAY PARTY is in order. This is the one office party you won't have to cavort with a single co-worker, or better yet, your Office Space like boss (who loves absconding with your red stapler). For this variety show like no other, expect sketch, music, poetry, and not a single paper cut. Your gainfully employed entertainment for the evening will include:
Brooklyn Jones (stand up)
Kim McVicar (stand up)
Meara Cummings (song)
Chrissy Bruzek (musical comedy)
Tonya Ingram (poetry) 
Kara O'Connor w/ Jacqui Bloom, Katie Visser, Hillary Reynolds & Hannah Schirman (sketch)
So who's bringing spiked egg nog? Only one way to find out! GO!
Mentions: Show 9pm. $8 tickets HERE. Skiptown Playhouse is located at 665 N. Heliotrope, LA, CA 90004.