Quick Dish NY: Join THE BOB ROSS CHALLENGE Fundraiser Live TOMORROW at Caveat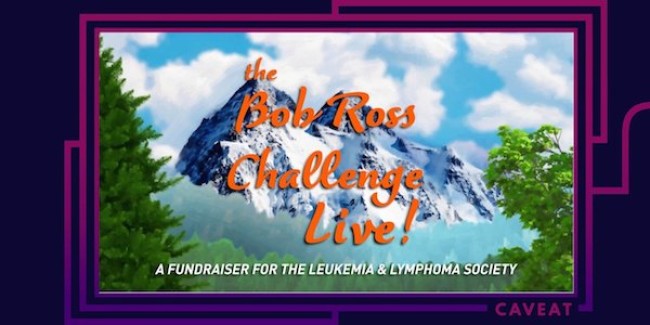 I spent many an afternoon as a kid watching artistically talented BOB ROSS demonstrate his practically ASMR painting techniques to an adoring audience. He had that Mr. Rogers kinda cool which, thankfully, has been passed on to new generations. Ross' popularity has, of course, exploded since then, so it comes as no surprise that the power of painting will still be spreading goodness to the world. TOMORROW at Caveat, join THE BOB ROSS CHALLENGE live show to celebrate Season 3 of the series "The Bob Ross Challenge" on Mashable. Painters who have taken the Bob Ross Challenge will perform live and be interviewed by hosts and creators of The Bob Ross Challenge, Micah Sherman (High Maintenance) and Mark Stetson (Mashable). "The Bob Ross Challenge" web-series continues the memories and teachings of Bob Ross by inviting people to paint along with "The Joy of Painting" in real-time. Did we mention the painters at this live show will have their landscape masterpieces auctioned off to the audience by a professional auctioneer? No pressure or anything. Rad! Tomorrow's event will not only be entertaining, but raise money for the Leukemia & Lymphoma Society (Bob Ross died of Lymphoma in 1995). The show's guests will include:
Janeane Garofalo
Josh Gondelman
Rebecca Vigil
Mia Jackson
Tarik Davis
+ a surprise guest!
You just know Bob would have only nice things to say about each and every painting. Don't miss out on this fantastic event!
Mentions: Doors 6:30 PM, show 7:00 PM. Tickets HERE (Tickets $20 in advance, $25 at the door). 21+.Caveat is located at 21 A Clinton Street, Manhattan. More info at bobrosschallenge.com.