Quick Dish NY: Olivia Levine's UNSTUCK Solo Show January 30 to February 23 at The Tank
New York comic Olivia Levine's solo show, UNSTUCK, returns to The Tank for a whole month of OCD fun (January 30th to February 23 to be exact). The show had a nearly sold-out run at The Tank last summer and Levine's back for more! OCD can be more than just the hand washing, touching, and counting you've heard of. Fears like "accidentally causing violent harm to a loved one" or "using a particular word that might result in the death of your best friend" are just some of the thoughts that can pop into a person's head who has to deal with the disorder on a daily basis. UNSTUCK "explores the intersection of Olivia Levine's own OCD with her sexuality and identity as a queer woman, focusing on how it engages with her familial, platonic and romantic relationships." Through the art of storytelling, standup, and movement, Levine will explore her OCD evolution as well as "the pains, surprises, and gifts" that have been incurred.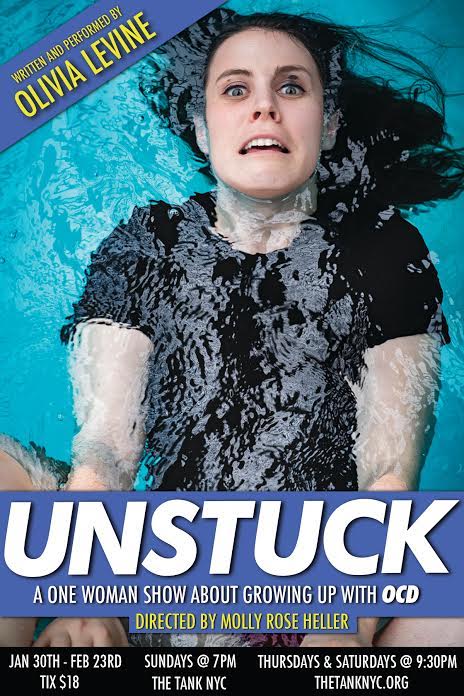 Mentions: Ticket info HERE. Performances take place at The Tank, 312 West 36th Street (between 8th & 9th avenues), 4th Floor, New York, New York 10018. Subways: 1, 2, 3, 7, A, C, E, N, R, Q, W to 34th Street. January 30 to February 23 – Sunday's at 7 pm. Thursday's & Saturdays at 9:30 pm. The show is directed by Molly Rose Heller. Follow Olivia on Instagram, Twitter & Facebook.