Tasty News: PICTURE THIS! Quarantine Edition TOMORROW on Zoom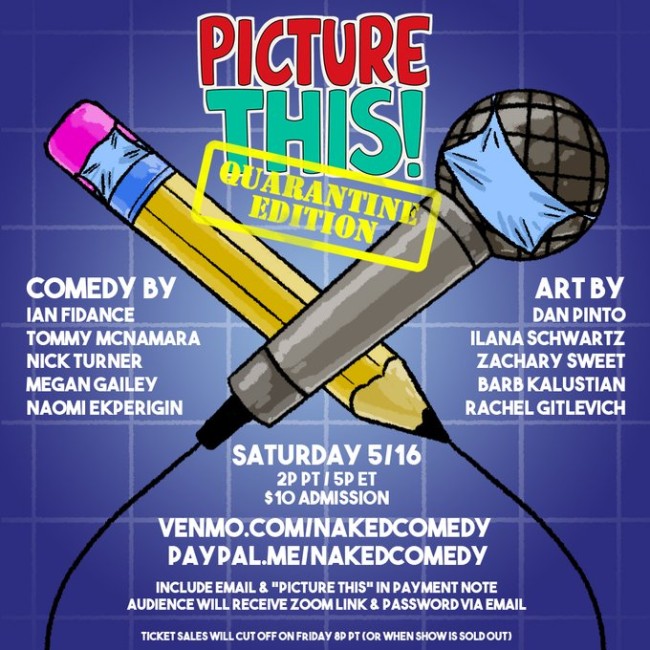 One of my favorite live shows to attend in the pre-pandemic world was PICTURE THIS! I could see a bunch of great stand-ups perform their sets while animators or cartoonists brought their sets to life on the fly. It was a perfectly, well-oiled machine of hilarity and now you can experience it online! It's almost as if this show was MEANT to live on the interwebs because it transitions so seamlessly. Case in point this ZOOM TEST video in which Dan Pinto draws NY PT host Ian Fidance, the "legitimately insane prop comic," in his "little prison room" complete with unused weights and Ian's Nosferatu kitty cat.
TOMORROW's show will take place on Zoom and offer up even more hilarious content and images to digest. The lineup will include:
COMEDY BY
IAN FIDANCE
TOMMY McNAMARA
NICK TURNER
MEGAN GAILEY
NAOMI EKPERIGIN
with ART BY Dan Pinto, Ilana Schwartz, Zachary Sweet, Barb Kalustian, and Rachel Gitlevich
Four-walled theaters are so 2019, kidz. Get with the program and and get those tickets before tonight's 8pm PST deadline!
Mentions: Time: 2pm PT/ 5pm ET. Show tix $10 at Venmo.com/NakedComedy OR Paypal.me/nakedcomedy. Be sure to include "Picture This" & your e-mail address in the payment note. The audience will receive a Zoom link and password via e-mail.