Quick Dish: Tomorrow Night 5/8 It's IMPRO(vs)TANDUP at UCBTLA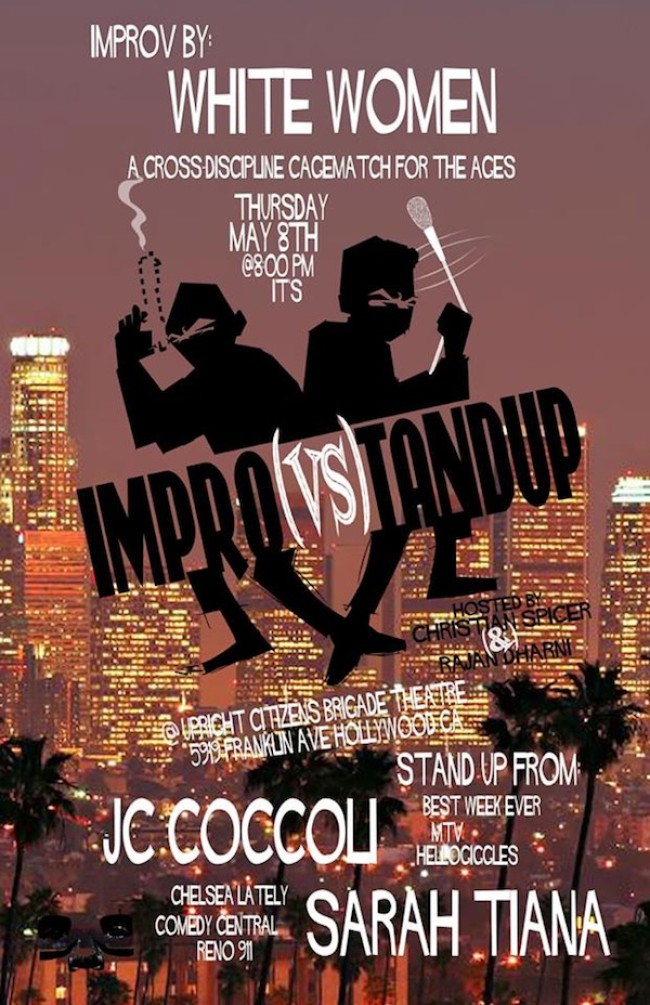 When improvisers meet stand ups for an all out comedy battle it is laughter war. This month the sketch team WHITE WOMEN (Carl Tart, Ronnie Adrian, Ifechukwude Nwadiwe, Majeed Nami, Lamar Woods, Ishmel Sahid, Zeke Nicholson) faces off against … well … two white women known as JC COCCOLI (Best Week Ever, MTV, Hellogiggles) and SARAH TIANA (Chelsea Lately, Reno 911, Comedy Central). It will be awesome as the two groups switch places to try their hand at the other's genre. IMPRO(vs)TANDUP is hosted by Rajan Dharni (Spike TV, North Carolina Comedy Arts Festival) and Christian Spicer (What's New, DLC). Be there or be meh.
Mentions: Show 8pm. Buy your tickets NOW! If you're ever in New York City, check out IMPRO(vs)TANDUP at UCB East hosted by Boris Khaykin!