Quick Dish: TONIGHT Check Out 'Happy Contest Time' at Three Clubs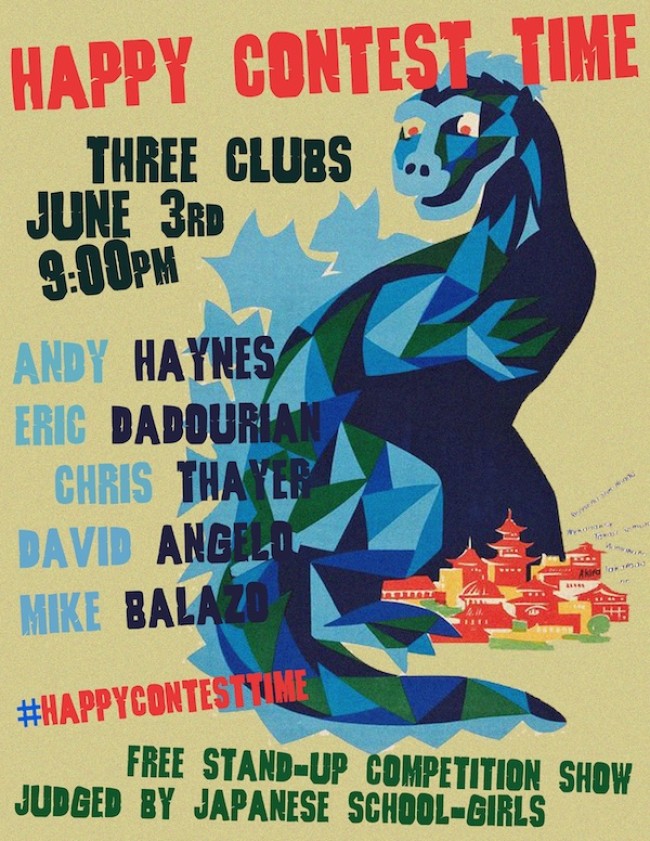 Of course, tonight you will already be at Three Clubs for Rise UP! comedy, so why not "shtick" around for some Happy Contest Time! And what exactly is Happy Contest Time? The first Tuesday of every month several brave comics perform in front of a live audience and are simultaneously judged by discerning Japanese school girls. The cast perform sketches inbetween sets and the whole thing is just a wild, uproarious laugh fest. The show was originally created by Desiree Lavoy and Deborah Etta Robinson (who had spent a year living in Japan) in that up north place known as Canada. Deborah relocated to Los Angeles and now collaborates on HCT with producer Christina Thiele. And guess who wins from this mind meld of comedy geniuses? WE DO! Tonight's comics include
Andy Haynes
Eric Dadourian
Chris Thayer
David Angelo
Mike Balazo
This weirdly appealing trailer should put you exactly in the state of mind for tonight's comedy feast:
And just for poops and chuckles here's another for your viewing pleasure:
This FREE stand-up competition is just what you've been craving!
Mentions: Show 9:00pm. FREE admission. Three Clubs is located at 1123 Vine St, Hollywood.