Quick Dish Quarantine: Get Your Chill on with DOUG BENSON'S COMEDY SESH 10.3 Online via RushTix
Are world events battering your chill into non-existence? Then it's time to join DOUG BENSON and friends Saturday, October 3rd for a laid-back afternoon of stand-up comedy followed by the Internet's biggest smoke session. Doug Benson's Comedy Sesh will include the company of:
Amy Miller
Geoff Tate
& Dustin Ibarra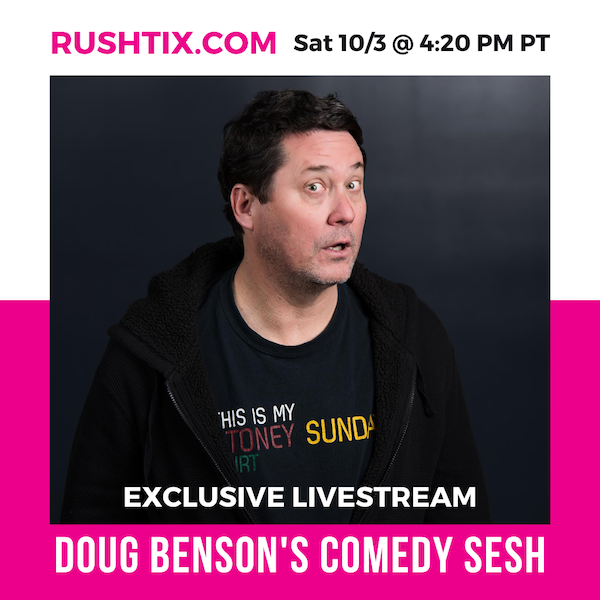 In addition, fans will be able to chat with Doug and each other while enjoying their refreshment of choice from home. If you are asking, "wait, who's this Doug? I only know the cartoon Mr. Funnie one." Well, let me tell you! The talented, human Benson is known for his popular podcasts, "Doug Loves Movies," and "Getting Doug With High"; his films, "Super High Me," "The Greatest Movie Ever Rolled," "Chronic-Con: Episode 420"; appearances on TV shows like "@midnight," "The Trailer Park Boys" and "You're The Worst;" and for presiding over "The High Court" as 'Judge Doug' on Comedy Central. Now that you've been illuminated, join Doug in entering another, way more comfy, plane of existence this October.
Mentions: Show 4:20pm on Saturday, October 3rd. Click HERE for tix. Livestream at RushTix.com. Follow Doug on Instagram & Twitter. Listen to Doug Loves Movies HERE.