Quick Dish Quarantine: Tonight Don't Miss The LAPKUS AND TOMPKINS OF THE LIVING DEAD Livestream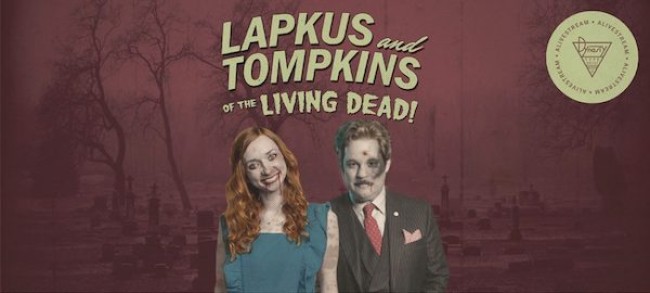 You probably spent your Sunday consumed by that The Walking Dead season finale. Why not extend that weekend escapism with some Lapkus and Tompkins of The Living Dead. TONIGHT care of Dynasty Typewriter, Lauren Lapkus (American Dad!, OITNB, Big Bang Theory) and Paul F. Tompkins (BoJack Horseman, Bajillion Dollar Propertie$, Bob's Burgers) will perform a 2-person improv set to tickle your quarantine fancy. Should I ever be confronted by two zombies at the end of days, please let it be this talented pair! These creatures of the humor-filled darkness will whisk you away to your 2020 happiness just long enough to feel human again. Enjoy!
Mentions: Show 5pm – 6:30pm. $5 General Admission / $10 Generous Admission. A portion of the proceeds from Lapkus & Tompkins of the Living Dead will go towards The Loveland Foundation. The show will be archived for 7 days after streaming. All-new Lapkus and Tompkins shows stream on the first Monday of every month! More show news at Comedy Cake.