Quick Dish Quarantine: HOFF'S HORRORFEST Presents "Silent Night, Bloody Night" 12.23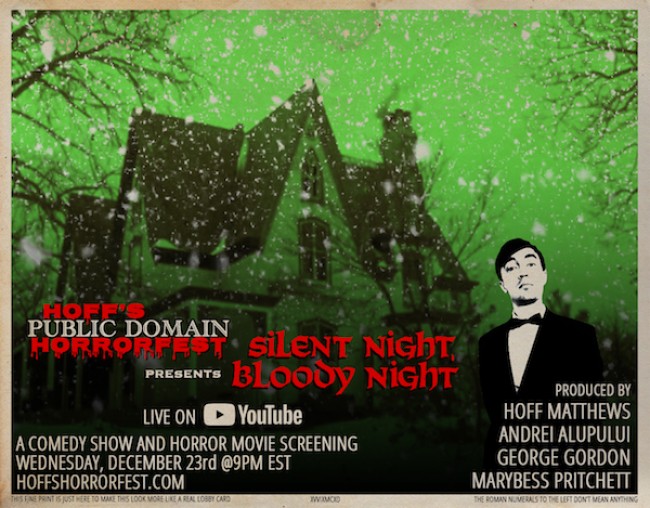 Did you miss Hoff's Public Domain Horrorfest? We sure did! Luckily, the live comedy show and horror film screen series returns for a Horrorday Special December 23rd. It just wouldn't be the holiday season without a good ole 70s slasher flick (says the person who watched The Godfather Part III on Christmas Day). Get cozy with Hoff Matthews as he presents Silent Night, Blood Night where Patrick O'Neal, Mary Maronov, and John Carradine bring to life the tale in which a series of murders occur in a small New England town on Christmas Eve. Things go south (for the winter) when a man inherits a family estate that was formerly an insane asylum. Of course! Not to mention, the cast and crew of this enterprise were former Warhol "superstars." Groovy, baby. In addition to the movie screening, the audience will enjoy more comedy segments, games and more! This should be one tinsel covered treat for the petrified masses!
Mentions: Show 9pm EST. Bloody FREE! "Silent Night, Bloody Night" YouTube Livestream Link -> https://youtu.be/3ugQL1toMH4. More info at www.hoffshorrorfest.com. This show is co-produced by Andrei Alupului (Come Ova, UCB), Marybess Pritchett (An Inconvenient Talk Show), and George Gordon (Laugh Track Festival, Your Good Friend).